Tony Stewart-Led Superstar Racing Experience Releases a Six-Race Schedule and Remaining Tracks for 2021
Published 01/05/2021, 1:40 AM EST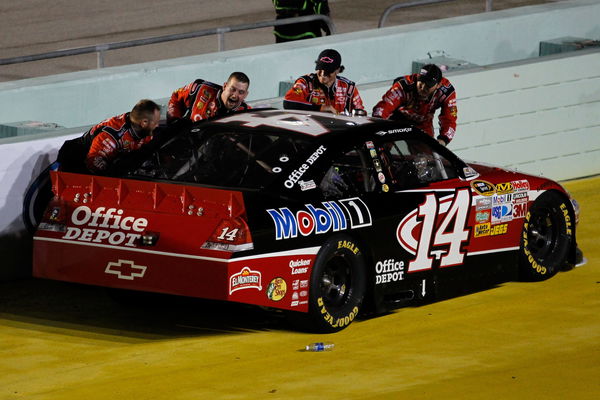 ---
---
The hype for the Superstar Racing Experience, led by Tony Stewart and Ray Evernham, is steadily building. As per the latest news, the calendar for the inaugural season has been officially confirmed.
ADVERTISEMENT
Article continues below this ad
Everything kicks off in the second week of June at the Stafford Motor Speedway in Connecticut. Every race will take place on consecutive weekends, before concluding on July 17 at the Nashville Fairgrounds Speedway.
Aside from Stafford and Nashville, the other venues are Knoxville, Eldora, Lucas Oil, and the Slinger Speedway. All six races will air on the CBS network, and the paddock starts its journey in the North East. After that, the series heads to the midwest for the conclusion of the inaugural season.
ADVERTISEMENT
Article continues below this ad
This inaugural season is hugely hyped up due to the star cast.
Aside from co-founder Tony Stewart, there are several high-profile stars on the roster. Joining the former Stewart-Haas driver is IndyCar's Helio Castroneves and Tony Kanaan. From the NASCAR world, there is Bobby Labonte, Willy T Ribbs, Bill Elliott, and Paul Tracy. Even ex F1 driver Mark Webber has joined in.
ADVERTISEMENT
Article continues below this ad
The project by Tony Stewart is packed with entertainment
The series drew inspiration from the now-defunct International Race of Champions (IROC) series. It saw drivers hailing from an assortment of racing disciplines in equal machinery. It lasted for around 30 years before it sadly folded for good. Luckily, the SRX series will try and pick up where it left off.
During the scheduling process, there were many potential tracks pitched to make it onto the calendar. Unfortunately, the likes of the Five Flags Speedway and the New Smyrna Speedway missed out. Regardless of that, the confirmed venues are excellent additions and the new season should be fun.
ADVERTISEMENT
Article continues below this ad
Co-founders Tony Stewart and Ray Evernham desperately hope to see their pet project succeed. They practically poured their heart and soul into the series to see it hit the ground running.