Tony Stewart Picks 2016 NASCAR Helmet Gifted by Jimmie Johnson as Most Favorite From His Collection
Published 01/26/2021, 1:00 PM EST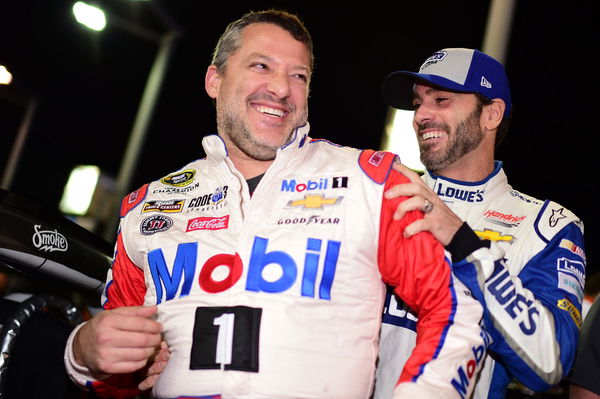 ---
---
The prospect of racing drivers swapping helmets with each other is very rare. Just like how football players swap jerseys after a match. Back in 2016, Jimmie Johnson and Tony Stewart performed a helmet swap between them. To this day, Stewart insists that that helmet remains his favorite one.
ADVERTISEMENT
Article continues below this ad
When Johnson won the race at Homestead to clinch his 7th Cup Series title, he gifted Stewart the helmet. 'Smoke' later confessed that he was truly honored and will never forget that day.
ADVERTISEMENT
Article continues below this ad
Admittedly, it was a bittersweet weekend for the Stewart-Haas Racing driver. This was because he could only muster 22nd place in a forgettable final season. Come to think of it, this probably explained why Jimmie Johnson initiated the helmet swap.
What did Jimmie Johnson say about the helmet swap?
Speaking during his #HelmetSwapStories series, Johnson opened up about that moment. He said, "Drivers really enjoy trading helmets. There's always a great story behind a paint job on a helmet. Of course, it needs to match and do the corporate thing as well, but we have more freedom with the helmet."
Johnson acknowledged that he and Stewart are good friends and knew each other for a long time. Of course, he took a cheeky jab at the former Stewart-Haas driver for misspelling his name. However, Stewart has always been a great mentor for the 7-time Cup Series champion.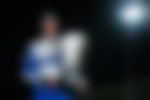 According to Johnson, that particular helmet was special to Tony Stewart, which is why Jimmie Johnson felt honored that Stewart chose to swap helmets with him.
ADVERTISEMENT
Article continues below this ad
Tony Stewart himself said that it was an emotional moment because it was his final race, and his friend won a record-equalling 7th Cup Series title on the same day.
All in all, this just goes to show the kind of person that Jimmie Johnson is. Whatever people may say about him, the former Hendrick Motorsports driver is impossible to hate.
ADVERTISEMENT
Article continues below this ad