"Toyota Set It Up for Him": Denny Hamlin Teases the Possibility of Fans Seeing Michael Jordan Driving a NASCAR Stock Car
Published 03/09/2023, 10:22 AM EST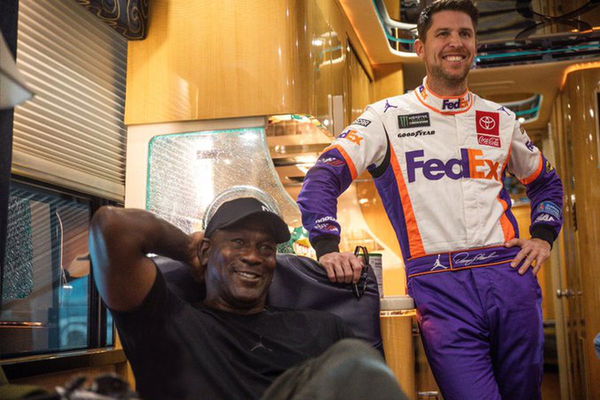 In a recent episode of the Actions Detrimental podcast, Denny Hamlin shared an anecdote about Michael Jordan. The #11 driver was asked whether the NBA legend ever had a chance to drive a NASCAR car. Hamlin took the chance to poke fun at his partner at 23XI Racing and tease the fans at the same time. As it happened, Jordan struggled massively on the simulator, and it was so bad that no one wanted it to go public.
Denny Hamlin mentioned on the Actions Detrimental podcast, "Never again. He did it once, but it was the simulator at TRD. That content has not been released nor will it probably ever be released. Good luck trying to get them to approve it.
"He wanted to feel what we feel. And so, Toyota set it up for him to get in the Toyota simulator. This was a couple of years ago; I think it was last year. I said, 'What kind of track do you want to be on?' He said, 'I don't want Daytona, just hold it wide open, that's too easy. Give me something, what's the next step.' I'm like, 'Alright, let's go to Charlotte.'"
ADVERTISEMENT
Article continues below this ad
Hindsight was 20/20 for Denny Hamlin & Michael Jordan
Hamlin wanted to comply with Jordan's wish, but he admitted later that he should have chosen differently. This was because the former Chicago Bulls star could not get to grips with the Charlotte Motor Speedway. The experience proved to be too much for the 60-year-old legend, and he was forced to abandon the session fairly early.
ADVERTISEMENT
Article continues below this ad
Hamlin continued, "I probably could have picked Las Vegas or Michigan. Probably should have done that, he didn't last long. He did okay, he had a problem holding the car down on the bottom of the track. It was probably 15 minutes in and he said, 'I'm done'.
"He was sweating profusely, it was very hot. You would not believe how they had to modify it. The back seat is out of the simulator to fit his legs in the pedals. He put the helmet on, and he's just like, 'Man! My eyes! I just got so dizzy, like I just started feeling queasy.' So he had to quit."
ADVERTISEMENT
Article continues below this ad
One thing is for sure, Jordan is not about to step back in a simulator for some time. At least Hamlin got a good laugh out of it.
WATCH THIS STORY: Denny Hamlin Leaves NASCAR Fans in a Frenzy After Boasting Partner Michael Jordan's Signature Collection
Edited By: Nischal Kandpal