"Trying Not to Overload Bubba" – Denny Hamlin Explains How He Is Helping Bubba Wallace, NASCAR Team 23XI Racing
Published 03/15/2021, 12:15 PM EDT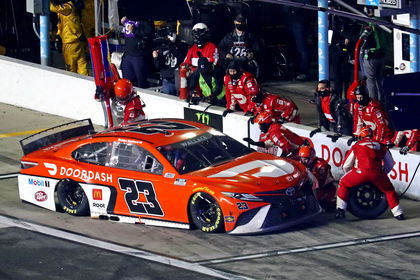 ---
---
Denny Hamlin has had quite the start to his 2021 NASCAR season, despite not having a win yet. With another top-five finish at Phoenix Raceway on Sunday, Hamlin has taken a big lead in the points standings.
ADVERTISEMENT
Article continues below this ad
Hamlin's performance in the No. 11 car so far is even more impressive, due to the fact that he is also donning the role of a co-owner at 23XI Racing. While Hamlin has been among the leaders in all races yet, his team's driver Bubba Wallace has faced the growing pains that come with a new team.
"This is such a growing process for everyone. Everyone is working together for the first time. This is a new team. This is not an inherited team. This is a team built from scratch," Hamlin said on 23XI Racing's building process.
ADVERTISEMENT
Article continues below this ad
Further, Hamlin recognized that the talented Wallace, trying to put the new team among the top ones, is already facing the pressure of performance.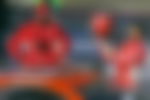 Denny Hamlin on his role in helping Bubba Wallace and the 23XI crew
"It's a building process. They're trying not to overload Bubba with too much information because he's got already so much he has to learn on a weekly basis," Hamlin said further.
He shed some light on how the team and Hamlin himself are trying to help their new driver through the process. The experienced NASCAR driver is constantly working with Bubba, from week-to-week, giving him some useful advice for each race.
"I try to do everything I can to help curb that learning curve. If I can help him out, give him some advice on a track that's coming up, some notes out of the book that I keep, hopefully maybe it's a help to him," Hamlin said on the same.
How has the new role affected Hamlin's NASCAR career?
Hamlin, a co-owner with Michael Jordan, also explained how his new duties have affected his own career. He pointed out that he does not have any days off during the week now as he utilizes his time to help Wallace and the #23 team crew with everything they need to improve as a unit, along with doing the same for his No. 11 team.
"Now the middle part of the week is really where I focus on 23, 11, go to the shop, talk to the team, the engineers, crew chiefs, figure out how we can be better. What do we need to go faster," Hamlin expressed.
ADVERTISEMENT
Article continues below this ad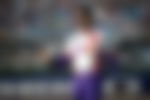 On Sunday, Wallace registered his best finish so far in the No.23 car. The 27-year-old finished the race in 16th place after showing some decent speed in certain phases of the race.
Hamlin and the ownership/management group recognize the building process for a new team. While Wallace will get all the support he needs, he will have to show regular improvements to help the team reach its goals sooner.
ADVERTISEMENT
Article continues below this ad