Ty Gibbs, Expected Kyle Busch Replacement at JGR, Slammed for Smirking Throughout "Actions Mean More Than Words" Apology
Published 10/02/2022, 5:03 AM EDT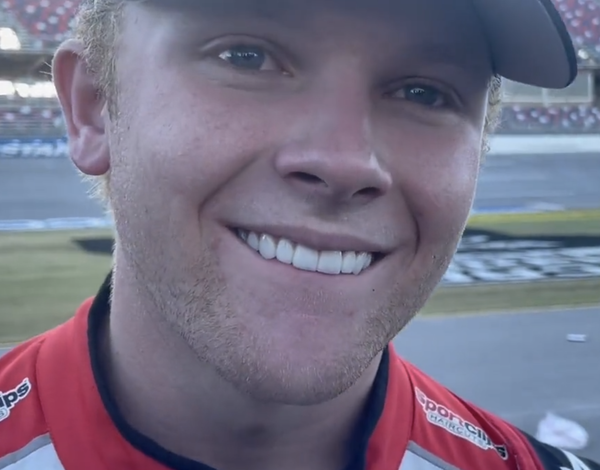 After receiving a hefty penalty for risking the lives of people on the pit road, one would imagine a driver would be deeply apologetic and concerned about it. Right? Well if that's so, Ty Gibbs certainly does not fall in with the norm. And expectedly, fans were outraged after he was spotted smirking and smiling during an interview discussing his actions.
NASCAR journalist Bob Pockrass asked Gibbs, "With the fine this week, did you have conversations either with your dad or granddad on how did you do all the talking or did they do all the talking…"
ADVERTISEMENT
Article continues below this ad
Gibbs kept interjecting throughout the question and finally when he got the freedom to take over, he stated, "Yeah, mostly they did all the talking and I have a great family and I've got great team owners. I've had a hell a lot of chats but, just making sure you know. I can sit here and apologize to everybody and my words don't mean anything so."
He continued, "I have to do it by my actions so, I'm sorry for the six, but I announced that it's by my actions that I really truly say that I am sorry. I can't be doing that stuff again and gotta keep going, but yeah definitely had a lot of talks."
Fans dislike the smirk put up by Ty Gibbs after being penalized
Fans did not appreciate the body language shown by Gibbs throughout the conversation. They called him out as he continually seemed to be smiling and interjecting in between questions.
Great question. The fact that he was talking over you interrupting your question about whether he talked or listened says something about Ty.

— Steven R (@SteveO1987SS) October 1, 2022
Im guessing the real Ty Gibbs is different than what you see in the media.

— Josh (@Josh07645770) October 1, 2022
He's right, his words mean nothing at this point.

— Justin Bates (@justinbates2911) October 1, 2022
I mean we have heard this before.

— Robert Papajeski 🏁 (@thereisrobert) October 1, 2022
The little smirk on his face as he's "apologizing" for the 90th time tells you everything you need to know.

— Long Schlong Silver (@LongSchIongSlvr) October 2, 2022
You can tell he doesn't care. He's laughing the whole time.

— Ron (@58BigRon) October 2, 2022
ADVERTISEMENT
Article continues below this ad
Kid could have cared less about this interview.

— Brian Hahn (@Brian_Hahn99) October 2, 2022
WATCH THIS STORY: "Allowance from Grandpa" Joe Gibbs: NASCAR Fans Slam Latest Ty Gibbs Sanctions for Infamous Brawl
ADVERTISEMENT
Article continues below this ad
What are your thoughts on Ty Gibbs and the way he behaved during his interview? Do you think he actually means that when he states that he would prove it by his actions? Let us know what you think.