Ty Gibbs Reveals Why He Asked for 'Peanut Butter Crackers' During NASCAR Xfinity Race at Daytona
Published 02/22/2021, 6:45 AM EST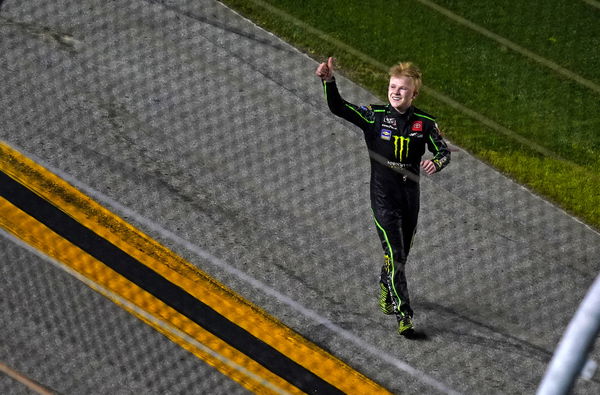 ---
---
During the NASCAR Xfinity race at the Daytona road course, a bizarre incident took place. Sometime during the race, Ty Gibbs mentioned that he had a small craving for peanut butter crackers. All the while, the team sent him encouraging messages while he was leading the race during the caution.
ADVERTISEMENT
Article continues below this ad
Speaking about it afterwards, he said, "Was a little hungry there, halfway through the race. I'm a small little guy, so I process the food pretty fast and I was looking for a snack."
ADVERTISEMENT
Article continues below this ad
Ty Gibbs probably got his peanut butter crackers as a reward for winning the race. He thoroughly deserved it, because he pulled off a spectacular move in the final couple of laps after the restart to slot into second. From there, he made a move for first and held onto the lead until the checkered flag.
Ty Gibbs fought hard for the win
ADVERTISEMENT
Article continues below this ad
Of course, Gibbs' job did not end there, because Austin Cindric soon slotted into second and started to hunt him down. Nevertheless, the youngster soaked up the pressure and fended off the championship leader for the next two laps. While he was helped by the fact that Cindric sustained early damage, the #22 car was always within striking distance.
One wrong move from the 18-year-old could have spelt a lost debut victory. Despite the Atlantean burden on his shoulders, he held firm and stormed to a maiden win. With this triumph, the Joe Gibbs Racing team would have probably treated him to all the peanut butter crackers that he wanted.
It is also worth mentioning that Gibbs is only making a limited number of appearances. However, performances like this will surely guarantee a full-time contract in 2022. Of course, he still has to continue performing exceptionally in every race that he enters.
ADVERTISEMENT
Article continues below this ad
MORE: WATCH: Ty Gibbs Pulls Off 'Stunning Move' in Overtime for Surprise Win in NASCAR Xfinity Series