Tyler Reddick Highlights the Biggest Difference in Michael Jordan's Team After Being Sacked Because of Kyle Busch
Published 03/09/2023, 7:58 PM EST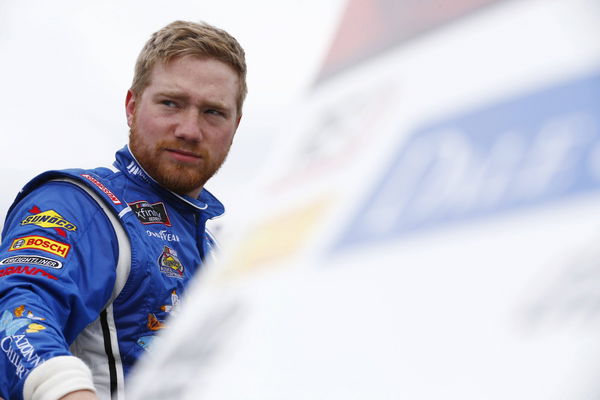 Kyle Busch joining Richard Childress Racing was a setback for Tyler Reddick. The two-time NASCAR Xfinity Series champion was in a way forced to leave the team. He was supposed to join 23XI Racing in 2023, but the remainder of his contract with RCR was bought out and he joined 23XI Racing to replace Kurt Busch. As it is with all transitions, it hasn't been that smooth so far for Reddick.
Changes can be difficult to adapt to, especially for sportspersons, as they are used to working with the same set of gear and crew. Reddick spent four years at RCR before becoming Bubba Wallace's teammate. It is natural that he finds some differences in the work culture and team dynamics.
Tyler Reddick gets candid with Dale Earnhardt Jr
ADVERTISEMENT
Article continues below this ad
Reddick was recently present on The Dale Jr. Download podcast. Speaking with Dale Earnhardt Jr and co-host Mike Davis, the 27-year-old touched upon various topics including his early NASCAR days and the current scenario. When asked how the transition to 23XI Racing has worked so far, he said, "Just getting used to how they go about things.
"Leaning on the drivers and how they approach the simulator, getting used to the differences between the simulators that I was into, and now being into the Toyota simulator. But obviously, it's been good, it's just been different."
When asked about the major difference that he has had to deal with at 23XI Racing so far, Reddick said, "I think I got really used to that routine that I was in for three or four years. And it took a little bit of time to get out of that routine and try to piece together what my schedule week to week is going to look like and how to maximize it.
"So I felt like that's where I was able to make its gains at RCR as I really had a schedule packed full of stuff of what I needed to get done and I am so working trying to get that completely maximized over here."
Of course, it will only get better with time. Nevertheless, the young driver will be relieved to know one of his team's co-owners definitely gets him.
NASCAR boss Michael Jordan understands Tyler's state of mind
It all happened at the Los Angeles Coliseum earlier last month. Reddick admitted that he wasn't at his best despite finishing sixth in the race. What shocked him was how the team's co-owner Michael Jordan knew it without him saying.
ADVERTISEMENT
Article continues below this ad
This act helped the NBA legend make a solid impression on the young driver. Speaking to Frontstretch, Reddick said, "It's funny, cause I wasn't feeling my best out in the Clash. Somehow he [Jordan] knew. And I hadn't told any people, but he knew. He's in the loop; wanted to make sure I was all good. So it's great to know that he cares."
Tyler Reddick has the Jumpman logo on his uniform. Did he ever think he would be associated with Michael Jordan? "One only dreams, right?" pic.twitter.com/hOcRyvT2Dq

— Bob Pockrass (@bobpockrass) January 23, 2023
ADVERTISEMENT
Article continues below this ad
These little things do go a long way when it comes to competitive sports. It remains to see how big an influence can Tyler Reddick have this season for his new team.
WATCH THIS STORY | Tyler Reddick Dethrones Chase Elliott as the New "Road Course King" in Bubba Wallace's Eyes
Edited By: Nischal Kandpal