"Wallace Spared His Life" – NASCAR Fans Laud Bubba Wallace for His Quick Thinking in Avoiding Catastrophic Crash With Erik Jones
Published 03/07/2022, 5:42 AM EST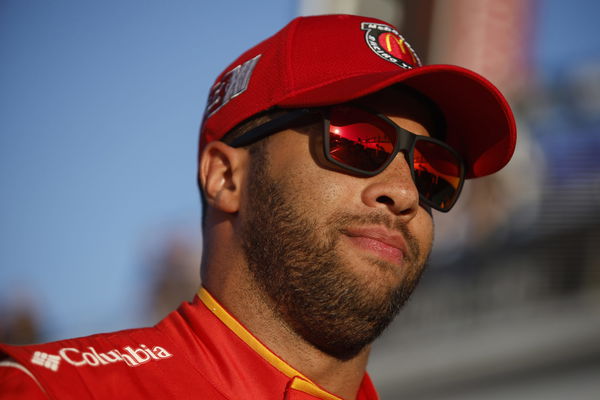 With three laps to go in the NASCAR Cup Series race at Las Vegas Motor Speedway, Petty GMS Motorsports driver Erik Jones got loose and lost control of his No.43. Although he avoided collecting any other drivers in this process, it was Bubba Wallace who, in a way, sacrificed his own race to avoid a bigger catastrophe.
Just as Jones lost control and hit the wall, he went off the track onto the grass, and then came back on the track spinning in the middle because of his unresponsive steering.
This meant an oncoming Bubba Wallace had to be quick with his feet, his hands, and his thought process as he was heading full throttle, ready to hit Jones' 43 in a direct T-Bone collision.
ADVERTISEMENT
Article continues below this ad
Fortunately, Wallace read the situation and steered hard left, away from the car stranded sideways on the tarmac as he himself hit the wall, effectively ruining his own race for the greater good.
One can only imagine what the consequences could've been had Wallace t-boned Jones on his left side. And it could very well have been a racing incident.
But thanks to his presence of mind, the accident was avoided, something for which NASCAR fans lauded him.
Wallace spared his life..

— Michael Fowler (@Mikex3193) March 7, 2022
Absolutely incredible job by Bubba to avoid the spinning 43 of Jones. Wow. That could've been really bad. #NASCAR

— Dustin Pritchard (@DustinPRacing) March 7, 2022
I'll tell you what… I'm not big with Bubba Wallace, but I'll give him mad props for being able to avoid Erik Jones like that & avoiding a potential catastrophe.#NASCAR

— Ultimate23Dragon (@Ultimat23Dragon) March 7, 2022
Bubba Wallace did a fantastic job missing Erik Jones' driver's side door. #NASCAR

— Toby Christie (@Toby_Christie) March 7, 2022
After replay, more props to Bubba Wallace for his reaction here. That was almost horrific.

If he hadn't, the No. 23 would've hit the No. 43 at near-full speed in the driver's door and Erik Jones might not have walked away from it. Could've been much worse.#NASCAR #Pennzoil400 https://t.co/tI89cdlASA

— Adam Cheek (@adamncheek) March 7, 2022
The No.23 from Talladega of Bubba Wallace to enter NASCAR Hall of Fame
ADVERTISEMENT
Article continues below this ad
It was recently announced that Bubba Wallace's No.23 Camry from his historic race win at Talladega last season, would soon be on display at the NASCAR Hall of Fame.
Winston Kelley, the Executive Director of the NASCAR HoF said, "In keeping with our mission to honor the history and heritage of NASCAR, we are thrilled by the opportunity to highlight Bubba Wallace's historic win by displaying the No. 23 car."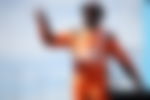 "We're grateful for the generosity of our friends at 23XI Racing for loaning us this priceless artifact and allowing us to share its legacy with guests."
ADVERTISEMENT
Article continues below this ad