WATCH: Ben Rhodes Survives Frantic Finish to Triumph in NASCAR Truck Series Opener at Daytona
Published 02/13/2021, 7:45 AM EST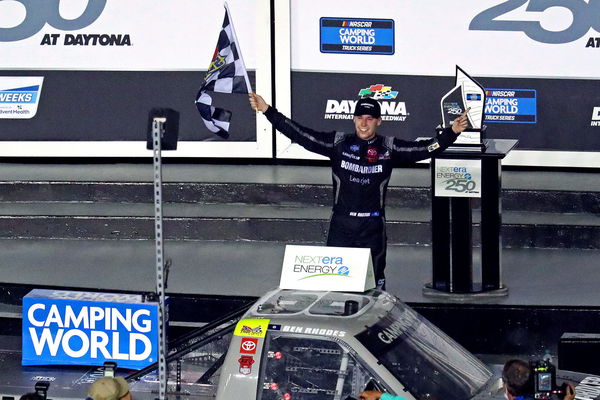 The NASCAR season has officially begun in earnest, and the Truck Series has kicked things off. Ben Rhodes drew first blood when he clinched victory at the Daytona International Speedway. However, there was a lot of drama as several cars wrecked behind him in a frenzied finish.
When the flag waved, Sheldon Creed led the pack, while Cory Roper brushed the wall. Despite that, he still managed to overtake Creed to head the pack. Meanwhile, Rhodes slotted into second, courtesy a helping hand from Matt Crafton.
While all this was happening, a gaggle of cars formed behind the trio, until Austin Wayne Self spun off.
ADVERTISEMENT
Article continues below this ad
Going into the final lap, there was a four-wide moment as Kris Wright got loose on the apron and drifted upwards. He bumped into Grant Enfinger and David Gilliland, forcing Crafton into the wall.
From there, it was carnage, as Wright spun Andrew Dollar into Enfinger. The two leaders escaped, as did the #3 of Jordan Anderson, who got a great run on the lead pair and almost snatched the win.
Ben Rhodes was delighted with the win
Speaking after the race, he said, "Biggest win of my career, I can't even believe this. As a driver, you're always asked about what your biggest accomplishment is, this is it! This is the place to be, I can't even believe it!
ADVERTISEMENT
Article continues below this ad
"We came back to Toyota and we won and our first race was in the ThorSport. This is special".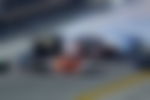 Rhodes also acknowledged that it was the best night of his life, and he will savor this win for as long as he can. This is because he felt that the Darlington win went by far too quickly.
ADVERTISEMENT
Article continues below this ad
The driver revealed that his move for the lead was set up as far back as the second stage. For a while, he hung back and bided his time, waiting for the perfect opportunity. While he may have missed out on that occasion, he would be darned if he came up short by the checkered flag.
The winning driver also called out his teammate Matt Crafton for helping him to the win. Now, he will be looking forward to carrying that momentum forward through the season.