WATCH: Brandon Brown Has a Wild Moment on the Track During the Rain Race at Charlotte
Published 10/12/2020, 5:52 AM EDT

Follow Us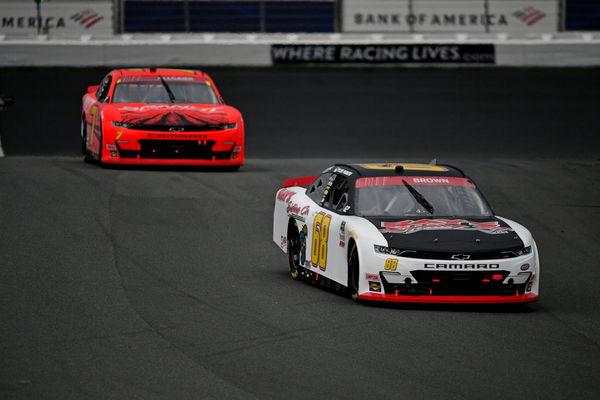 This weekend, Hurricane Delta unleashed its fury and the Charlotte Roval happened to be in its trajectory. As a result, the track bore witness to its first rain-soaked race. Since this was uncharted territory, the ensuing inevitable chaos brought many spectacular moments. Brandon Brown found this out the hard way.
On Saturday, everything kicked off with the NASCAR Xfinity Playoff Race at The Roval. Most racing fans know that the rain is a great leveler and the equipment no longer matters.
In other words, when the track is wet, the need for speed is swapped with the reliance on pure survival. In fact, some drivers revel in the conditions as they can truly show off their skills.
ADVERTISEMENT
Article continues below this ad
What happened to Brandon Brown?
Since Charlotte Roval is a brand new racing surface, the asphalt is smooth, which leads to a lot of standing water. Unfortunately for Brown, he got the shock of his life when he fell victim to one of those wild moments in Saturday's race.
ADVERTISEMENT
Article continues below this ad
The 27-year-old started the race in 7th place and the drama began at the start of stage two. Brandon Brown was on Noah Gragson's tail for the race lead. He managed to take the lead but forgot to brake for the corner. As a result, he shot right through the chicane, sliding through the water.
In accordance with the rules, he came to a complete stop. However, it was to his detriment, as he tumbled well down the order. The good news was that he fought back to finish 7th in stage two.
ADVERTISEMENT
Article continues below this ad
Later on, he went off track through the infield road course section and practically created a tidal wave. As it turned out all the drivers had been pushing water off the racing surface onto the grassy runoff areas. Owing to this, the grassy area almost became a lake. So when Brown went off, his front splitter became a high-speed plow and sent water almost 30 feet into the air.
In the end, he finished all the way down in 26th place. Though he has endured an up and down season, he did record a best finish of 7th at Daytona and Bristol. Now, there are four races left in the 2020 Xfinity season and he will be hoping for a decent result in those four races.