Watch: Clint Bowyer Takes A Funny Jibe at Brad Keselowski After His Win at Bristol Motor Speedway
Published 06/01/2020, 8:59 AM EDT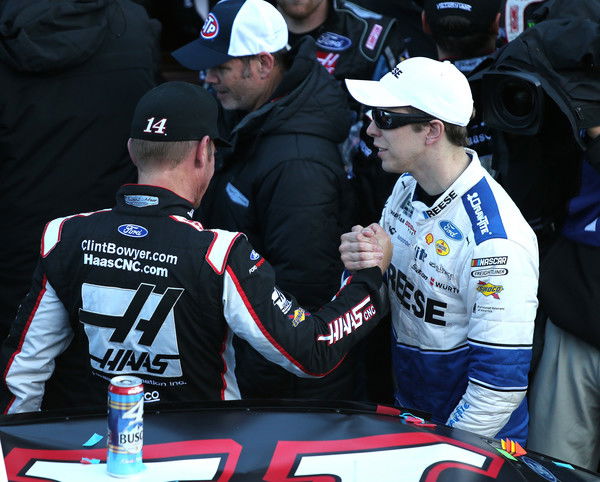 ---
---
Last night, Clint Bowyer took a funny jibe during the after-race interview at race winner Brad Keselowski. Brad fended off Bowyer in the last few laps to take the win.
ADVERTISEMENT
Article continues below this ad
NASCAR journalist Bob Pockrass posted a video of the post-race interview on Twitter. He said, "Clint Bowyer discovers the secret to winning from Brad Keselowski"
In the video, Brad tries to interrupt Clint's interview and waves at the camera. Clint replies with a hilarious comment on his race win. He says, "Congratulations Brad, You know you hit the damn car at me. If they would have held you a little bit more. This would be an apology interview right now"
ADVERTISEMENT
Article continues below this ad
Clint Bowyer finished at the second place ahead of Jimmie Johnson and Kyle Busch
After the Chase Elliott-Joey Logano incident, Keselowski successfully defended all the moves Clint Bowyer threw at him. Clint wasn't able to overtake Keselowski and settled for the second-place finish. Clint might not have taken the win but it was his best performance of this season. He did manage to keep Jimmie Johnson and Kyle Busch behind him and gave Brad a decent fight till the end.
After the race, Clint Bowyer said, "The outside was no man's land for me.  I couldn't get my front end to turn at all. Keselowski hit Ryan Newman into me and clobbered my whole left side. I was needing (Keselowski) to be a little bit closer. I wasn't gonna feel bad about moving him, but it just didn't materialize."
ADVERTISEMENT
Article continues below this ad
Talking about his race, he said "We actually struggled pretty bad with our setup. I don't know, it was floating the nose really bad up off the corner all day long. I could gain and make some ground up in the center of the corner in, and in the middle, but if I had to pass somebody and turn underneath of them I didn't have the real estate."
ADVERTISEMENT
Article continues below this ad