WATCH: Heim, Nemechek Among Those in 17-Car Massive Wreck in NASCAR Truck Series Darlington Throwback Race
Published 05/08/2021, 9:30 AM EDT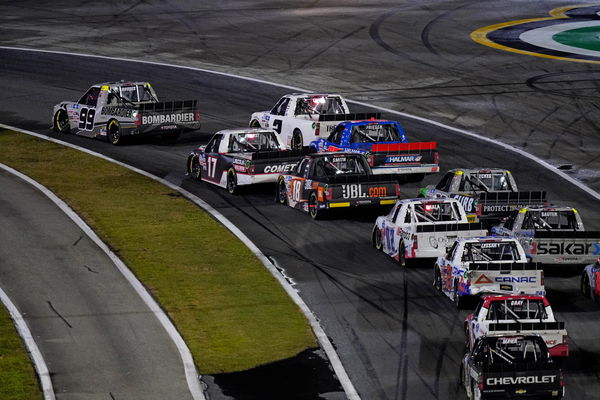 ---
---
During the NASCAR Truck Series race, chaos reigned at the Darlington Raceway on Friday night. When the cars took to the restart, the caution flags had to be thrown back out almost immediately. The two Kyle Busch Motorsports trucks were leading the pack when they clipped each other. As a result of the incident, around 17 cars were taken out.
ADVERTISEMENT
Article continues below this ad
The #51 of Corey Heim wiped out his teammate, John Hunter Nemechek, and the pack descended into mayhem. Other victims included the #17 truck of David Gilliland, Austin Hill, Chandler Smith, and several others. Replays later showed that the third and fourth-placed trucks tagged the leaders into the wall.
ADVERTISEMENT
Article continues below this ad
However, they soon got their justice when the out-of-control cars wiped them out as well. The scene was so crazy that former driver Greg Biffle compared it to being at Talladega. Of course, this is NASCAR and huge wrecks are expected, and even the norm; however, nobody could've imagined the number of cars taken out in the crash.
How did the rest of the NASCAR Truck Series race pan out?
ADVERTISEMENT
Article continues below this ad
In the end, Sheldon Creed survived everything that the 'Track Too Tough to Tame' threw at him. After 12 caution flags, the 23-year-old took his first win of the 2021 season and his sixth career win. Meanwhile, Ben Rhodes finished second, ahead of Carson Hocevar and Matt Crafton. Grant Enfinger managed to escape the worst of the crash and went on to finish in the Top 5.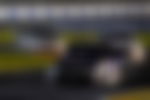 With this win, Sheldon Creed shattered Toyota's domination in the NASCAR Truck Series. The Kyle Busch Motorsports team has won every race, barring two so far. On those two occasions, Rhodes took the win for ThorSport, another Toyota customer. In essence, this is Chevrolet's first NASCAR Truck Series win in the 2021 season.
ADVERTISEMENT
Article continues below this ad
Of course, this also means that the pressure could be on Ford to join the party. However, there are very few Ford trucks in comparison to Chevrolet and Toyota. Now, all the drivers will be looking ahead to the next Truck race at the Circuit of the Americas for the first time in NASCAR history.