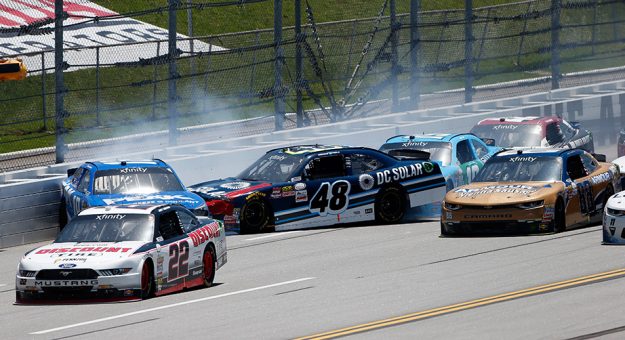 In NASCAR, a crash involving multiple cars is generally dubbed 'The Big One'. Suffice to say, The Big One happened at the Talladega Superspeedway. Justin Haley seized victory from pole position in Alabama, but all the action unfolded behind him. Apparently, the Number 9 car spun and triggered a chain reaction, taking out 11 cars in the process.
The incident took place during the final stages of the race when Noah Gragson got turned around. As it turned out, the culprit was his teammate, Justin Allgaier, and the out-of-control car collected several drivers. Other victims included Brandon Jones, Brandon Brown, Myatt Snider, and Tommy Joe Martins.
An eventful end to the NASCAR race in Talladega
The accident took place with nine laps left on the scoreboard, and Gragson was running 6th at the time. His teammate tried to give him a bump-draft, but somewhere along the way, they messed up and paid the price. To the dismay of nine other drivers, there was no way to avoid the oncoming and eventual wreck.
Meanwhile, Justin Haley was all smiles, oblivious of the drama behind him. After winning the race, he spoke about the win. He said, "First of all I want to dedicate the win to Nick Harrison and the Harrison family, he started this journey with me last year in my rookie year, losing him was pretty big. This is an incredible day. Emotionally, I'm fighting for a ride, fighting for the next time I get in a race car next year. Anytime you can win definitely helps."
Speaking to FS1, he alluded to his former crew chief who died unexpectedly in July 2019. Harrison was 37-years old at the time of his passing, and Haley was quite close to him. On a happier note, Haley is the this first-time winner and he snatched victory with a last lap pass.