WATCH: Dale Earnhardt Jr's Priceless Reaction About His Father Being the Reason for the Rivalry Between Brad Keselowski's Business Partner and Former Team Owner
Published 05/20/2022, 10:20 AM EDT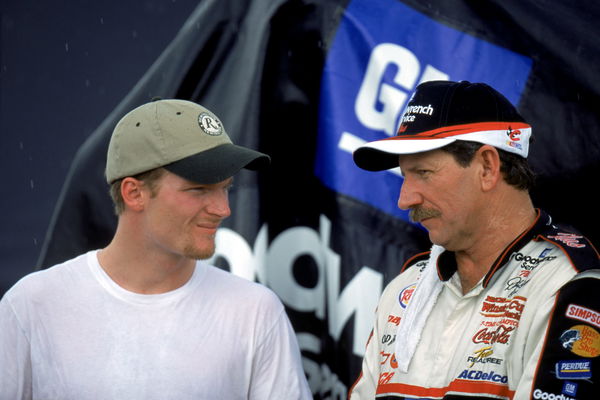 In a recent interview with Dale Earnhardt Jr on the Dale Jr. Download show, Doug Yates, the former NASCAR team owner, revealed that his father, Robert Yates, and current team owner Jack Roush didn't really like each other.
"They both wanted to be the best Ford guy out there. They really didn't like each other," he said.
Yates then went on to reveal the reason why that was so as he said, "It's really, it's Dale's fault to be honest with you," to which a surprised Dale Jr. replied, "Who's?"
ADVERTISEMENT
Article continues below this ad
"Your dad's fault," Yates answered.
"Because early 90s, he was dominating plate races right? And so Ford said, 'Why don't you guys work together? You and Jack get together and compare engines and figure out what's going on."
"So I was just out of college, we drove our engine up there, took two engines up there. We spent three days there, we ran our engine, we ran Jack's engine, swapped parts," he continued.
"We all went to Talladega and we qualified 3rd and Jack qualified, like 33rd."
Yates added that Roush felt it was "cheated" because he felt they didn't share everything with them, something that led to the brewing rivalry for years to come between his father and Jack Roush.
Dale Earnhardt Jr. reveals if his father would sit in a simulator
ADVERTISEMENT
Article continues below this ad
In a recent segment of the Ask Jr. section of his podcast, Dale Earnhardt Jr revealed how his father would've reacted if he was put in a simulator.
"I think since simulators are so prevalent…dad would without a doubt, try it. He would do it in a way, no one would know," Dale Jr. said. "He would show up at 9 o'clock at night, when everybody was gone and had some guy waiting there to turn it on and put him in there."
"But he wouldn't want anybody watching him drive a simulator. And then he would probably do it, never do it again," he continued. "Then he would get out and continue to complain about them and what a waste of time they are."
ADVERTISEMENT
Article continues below this ad
WATCH THIS STORY: Team Owner Joe Gibbs Vows to Confront NASCAR Over Kyle Busch Sanctions in Richmond
Edited By: Ranvijay Singh