WATCH: Denny Hamlin Frustrated With Bubba Wallace; Forces the "F**king Slow" Driver to Make a Major Change at Talladega
Published 10/05/2022, 12:45 PM EDT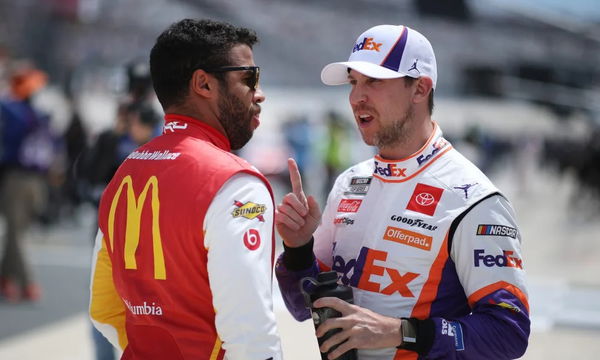 This year's Talladega race was just as interesting as every year. But surprisingly enough, it wasn't as big of a crash ground, unlike last year. However, there is something else more interesting, as footage suggests Denny Hamlin put serious pressure on his driver, Bubba Wallace.
ADVERTISEMENT
Article continues below this ad
He asked the #45 driver to move out of his way, instead of helping his driver and car.
ADVERTISEMENT
Article continues below this ad
Right in the middle of the race, the #11 of Hamlin and the #45 of Bubba were bumper-to-bumper. Of course, the #45 being a 23XI car, which is Denny's team, you would expect them to help each other out. But it was quite the opposite, it seems. Wallace seemed to be struggling in the race, and his owner came on the radio to say, "Tell the #45 just go, don't back up so much."
And to this, the 23XI driver told his spotter, Freddie Kraft, "Just fuc*ing slow. get me out." Clearly, he doesn't want to annoy his boss, and he's ready to sabotage his race to let his car owner pass.
Of course, Hamlin's spotter, Chris Lambert, carried the message across, "Bubba (Wallace) said he's too fuc*ing slow. He's just gotta get out here." 
Right after the quick correspondence, the #45 moved out of the lane and let his boss through.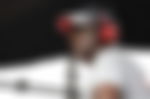 Now, in all fairness, Wallace sure was slow around this time of the race. Fortunately, he figured out his weakness mid-race and got out of the way to avoid jeopardizing someone else's race. Maybe, that someone just happened to be his boss. But how did the driver perform?
How did Bubba Wallace perform in Talladega this year?
Last year's race at NASCAR's fastest track is one of the more controversial races because of Bubba. Well, he won that race but fans still argue whether he deserved that win. Because it was a rain-shortened race that announced him the victor because he was the last person leading.
ADVERTISEMENT
Article continues below this ad
But was his performance this year any better than before? Or just worse?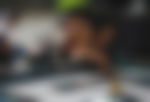 He sure had some struggles initially, especially around the time he and his boss had that little communication. But it's fair to say he recovered well with a top-20 finish, with just one position shy of a top-15.
ADVERTISEMENT
Article continues below this ad
WATCH THIS STORY: "Won't Have Sabotaged Engines This Time" – Bubba Wallace & Kyle Busch Win NASCAR Majority in Unofficial 2023 Poll
But what do you think? Was it a good race for the 23XI driver? Because the same surely can't be said for his temporary teammate, Ty Gibbs in the #23 who retired early in the race.
Edited By: Nizamul Haque Bhuyan