WATCH: Denny Hamlin Literally Holds Up Kyle Larson on the Final Lap at Darlington
Published 09/07/2021, 12:42 AM EDT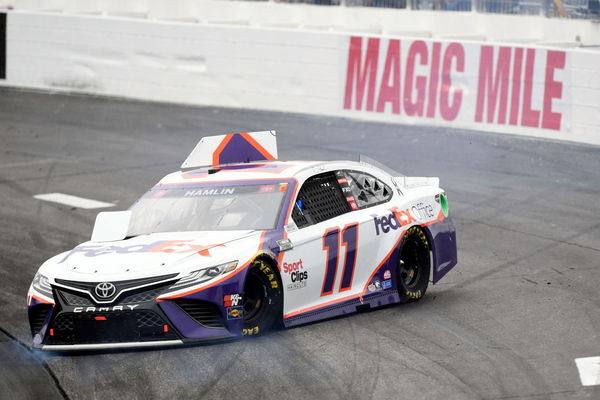 ---
---
At the Darlington Raceway, Denny Hamlin finally managed to score his first win of the season. Admittedly, this win came in a slightly controversial fashion as he literally blocked his opponent. On the final lap of the race, he had a reasonable gap, until he suddenly slowed and backed up into Kyle Larson.
ADVERTISEMENT
Article continues below this ad
The tactics may have been dubious, but they were effective in preventing the Hendrick car from overtaking. It is also worth mentioning that Larson has also employed his own strange tactics to snatch the win. Apparently, he carried more speed than normal into the turn and deliberately hit the wall.
ADVERTISEMENT
Article continues below this ad
The #5 driver then began riding the wall through Turns 3 and 4 to try to close in on Hamlin's rear bumper. Some described it as a video-game style move, and it brought back some memories. To be precise, many were reminded of Carl Edwards' attempt to defeat Jimmie Johnson in 2008 at the Kansas Speedway.
ADVERTISEMENT
Article continues below this ad
How did the race play out for Kyle Larson and Denny Hamlin?
Larson said, "Decided I would try to wall-ride and see what would happen. He (Hamlin) started running a little bit safer line the last few laps and getting back to diamonding (the corner). I thought if I rode the wall, I could squeeze to his outside and who knows what would have happened after that down the front stretch. I actually got to his bumper a little too early and he kind of protected the wall."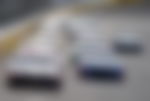 In the opening stage, Hamlin drew first blood, with Larson behind him in second place. When Stage 2 concluded, the #5 Hendrick Motorsports driver answered back with his own win, and Hamlin in fourth. Finally, it all came down to the wire in Stage 3, as both drivers resorted to the 'desperate times call for desperate measures' tactic. In the end, it was Hamlin who emerged victorious to grab his first Cup win of the season.
ADVERTISEMENT
Article continues below this ad