WATCH: Former NASCAR Driver Mike Swaim Jr Makes up 23 Places in Two Laps
Published 11/26/2020, 10:15 PM EST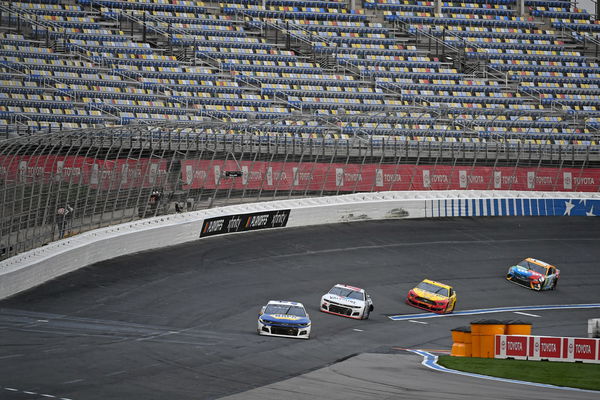 ---
---
Back in 1998, Mike Swaim Jr bagged pole position at Charlotte for the NASCAR Goody's Dash Series race. Sadly, his joy was a little short-lived, as he got relegated to the back of the pack, to 41st place. Apparently, it was a fairly silly reason for the demotion, as he arrived late to a drivers meeting, but the rules are the rules.
ADVERTISEMENT
Article continues below this ad
However, that only resulted in him metaphorically cracking his knuckles. Then, he attempted the comeback to end all comebacks. Within the span of one lap, he clawed his way up to 23rd place and he was still going strong. When the second lap concluded, he vaulted up the pack to run in 18th place.
ADVERTISEMENT
Article continues below this ad
Unfortunately, his good fortune did not last, as disaster struck on the fourth lap. As it turned out, he became a victim of Murphy's Law, when he punctured his right front tire, pitching him into the wall and out of the race.
How did Mike Swaim Jr perform in his NASCAR career?
The 1997 Dash Series champion never quite made it to the big leagues, mostly sticking to the Goody's Dash Series. He took the title in 1997 and mostly stuck to that series until it folded after the 2011 season. During his Dash career, he racked up 12 wins. Aside from that, he ran in a limited number of races in the Xfinity and Truck Series.
In the 2001 Busch Series, he recorded a best finish of 20th place at the World Wide Technology Raceway. However, that was just one of four races he competed in, and he didn't qualify for the fourth one. In the Camping World Truck Series, he registered another career-best finish of 20th in the 1999 season.
However, he did achieve considerable success in the ARCA Re/Max Series. In 1998, he won the race at the Atlanta Motor Speedway. Furthermore, the driver also had a handful of Top 10 finishes throughout his ARCA Re/Max career. Sadly, he is no longer racing, but will always be remembered for the comeback and this particular epic save.