WATCH: Hailie Deegan Involved in Massive Multi-Car Wreck in NASCAR Truck Race at Las Vegas
Published 03/07/2021, 5:30 AM EST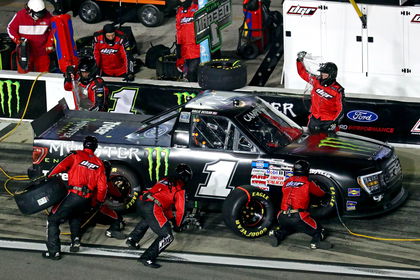 ---
---
Hailie Deegan was one of the many drivers to get caught up in the massive wreck during the NASCAR Truck race at the Las Vegas Motor Speedway. Luckily for her, she managed to escape the worst of the damage and continue onwards. This took place after Kyle Busch's spin and flat tire, which put him a lap down. Safe to say, the caution flag became his new best friend.
ADVERTISEMENT
Article continues below this ad
The whole incident got triggered when Raphael Lessard tried a move on David Gilliland. Sadly, he botched it and got sent into a spin, with Deegan, Bret Holmes, and Ryan Truex being the innocent victims. While all this was going on, Austin Wayne Self barely escaped the wreck in one piece.
ADVERTISEMENT
Article continues below this ad
In the end, Hailie Deegan had to settle for a lowly 28th place. On the slightly bright side, she finished ahead of fellow female racer Jennifer Jo Cobb. However, that will be little consolation as she would have been hoping for a higher finish. Now, all she can do is sit and rue what could have been, then move on to the next race.
ADVERTISEMENT
Article continues below this ad
Hailie Deegan was not the only victim of the race
In a separate incident, Conor Daly got involved in a fiery wreck at the track. While battling with Chase Purdy, Daly went three-wide with his Niece Motorsports teammate and Purdy. A slight bit of contact was enough for him to lose control and crash heavily into the wall.
While trying to take avoiding action, Tyler Hill spun, but managed to keep the truck away from the wall. Speaking after the race, Daly admitted. that he was alright, and was having fun until the accident. He chalked the incident down to his own inexperience, but he will be more than keen to come back and race again.
ADVERTISEMENT
Article continues below this ad