WATCH: Hendrick Motorsports Legend Darrell Waltrip's Meeting With 'Denny Hamlin' Look-Alike Unearthed
Published 06/21/2022, 2:30 PM EDT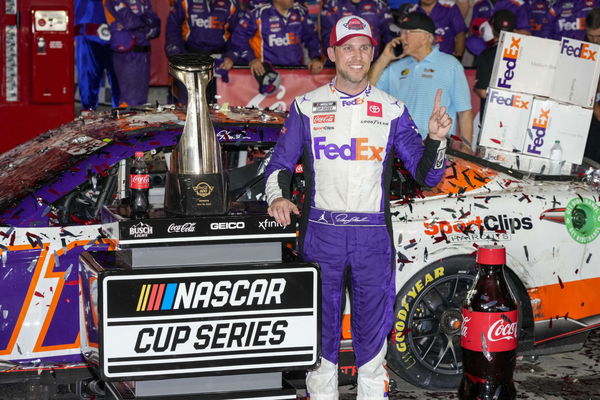 Back in 2006, actor Jon Heder attended the NASCAR Cup race at the Atlanta Motor Speedway. Heder is best known for playing the titular role of Napoleon Dynamite, which is a cult classic movie. At the time, he and fellow actors David Spade and Rob Schneider were promoting their new movie, the Benchwarmers.
It is worth mentioning that he bore an almost uncanny resemblance to a certain Denny Hamlin.
ADVERTISEMENT
Article continues below this ad
In that same race weekend, he spoke to former NASCAR driver Darrell Waltrip, who was a Napoleon Dynamite fan. Apparently, Waltrip wanted the actor to quote a well-known line from the movie. However, Heder corrected him and said, "Dude you got it wrong, DW. It goes, 'Tina! Come, eat some ham!'".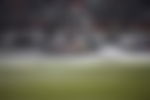 Unfortunately, the line was still wrong and the actual dialogue was "Tina, come get some ham".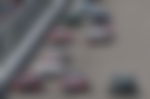 Though it is worth noting that the movie was released two years earlier. So one could not really expect Heder to remember the exact line after so long.
Where did the Denny Hamlin comparisons come from?
Interestingly enough, a few fans observed that Heder almost looked like a doppelgänger of Denny Hamlin. Admittedly, Heder was not an exact look-alike because he had shoulder-length blonde hair. Meanwhile, Hamlin sports short brown hair on his head, and the 2006 season was also his first full-time Cup season.
I thought this was Denny til I heard the voice

— Barter (@Barter7even) June 21, 2022
Admittedly, since he was just a Cup rookie at the time, nobody would have made the connection so quickly. Sadly for Hamlin, he didn't perform particularly well at Atlanta that year, finishing 31st in his first race. Fortunately, he redeemed himself on the second visit that year and notched up a fine eighth place, his 17th Top 10 finish of 2006. In the following race, he finished in the Top 10 again, before back-to-back 3rd place finishes in the final two races.
ADVERTISEMENT
Article continues below this ad
Fast-forward to several years later, and Hamlin is now a veteran NASCAR Cup Series driver. In his career, he has amassed a grand total of 48 Cup Series wins, all for the Joe Gibbs Racing team.
ADVERTISEMENT
Article continues below this ad
WATCH THIS STORY: Chase Elliott & Denny Hamlin Combine to Give Ross Chastain "An A** Whipping"
Sadly, he has often missed out on a Cup Series title, coming close in the 2010 season when he finished 2nd. Now, he will have to try yet again this year for his maiden title.