WATCH: How Brandon Jones Slipped Through for the Win in an Intense 3-Driver Battle at Darlington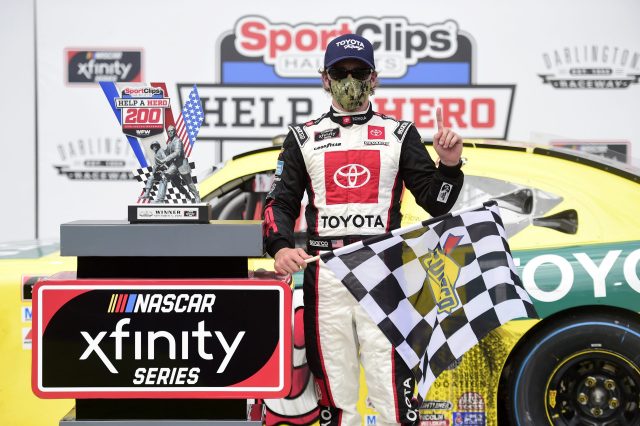 The NASCAR Xfinity Series saw one of the most exciting finishes this season at the Darlington Raceway on Saturday. Brandon Jones, Ross Chastain, and Denny Hamlin were involved in a tight battle for the highest honors at the track called 'Too Tough to Tame'.
Denny Hamlin had all the momentum going into the final couple of laps as he reached the front after starting the race dead last. He also won both stages on his way to the front.
The three-driver battle in the final two laps
With two laps to go, Chastain and Hamlin fought for the lead in close quarters. They made contact soon after as Hamlin went into the wall. The contact slowed both drivers down, giving Brandon Jones an opportunity to catch up to them.
If you haven't seen it yet, stop what you're doing and watch the NASCAR Xfinity finish from Darlington.

It's awesome. pic.twitter.com/mR7uIZG4Un

— FOX: NASCAR (@NASCARONFOX) September 5, 2020
Chastain maintained his lead, but Hamlin was ready to make the move. He eventually did pass Chastain but slipped into the wall. He was very close to Chastain, and the two made contact again as Chastain followed Hamlin into the wall.
This was enough for Brandon Jones in the No.19 car to finally take the lead just before the final lap began. Jones held on and raced far ahead to win his third race this season. Chastain shrugged off the incident to finish in second place, but Hamlin fell outside the podium and finished fifth.
Brandon Jones conquers 'Too Tough to Tame'
Darlington is one of the tougher tracks to conquer, especially when such an interesting battle is brewing. Jones admitted the challenge after the race and expressed how he was able to eventually triumph.
"This is a tough place to get around and man, just smart in the head I think today, I think that's what got 'em," Jones said after his win. "I saw they were really racing hard and I knew I was catching them and we knew he (Hamlin) was gonna pull that big slider.
"That's what you gotta do sometimes to get yourself in position," he added.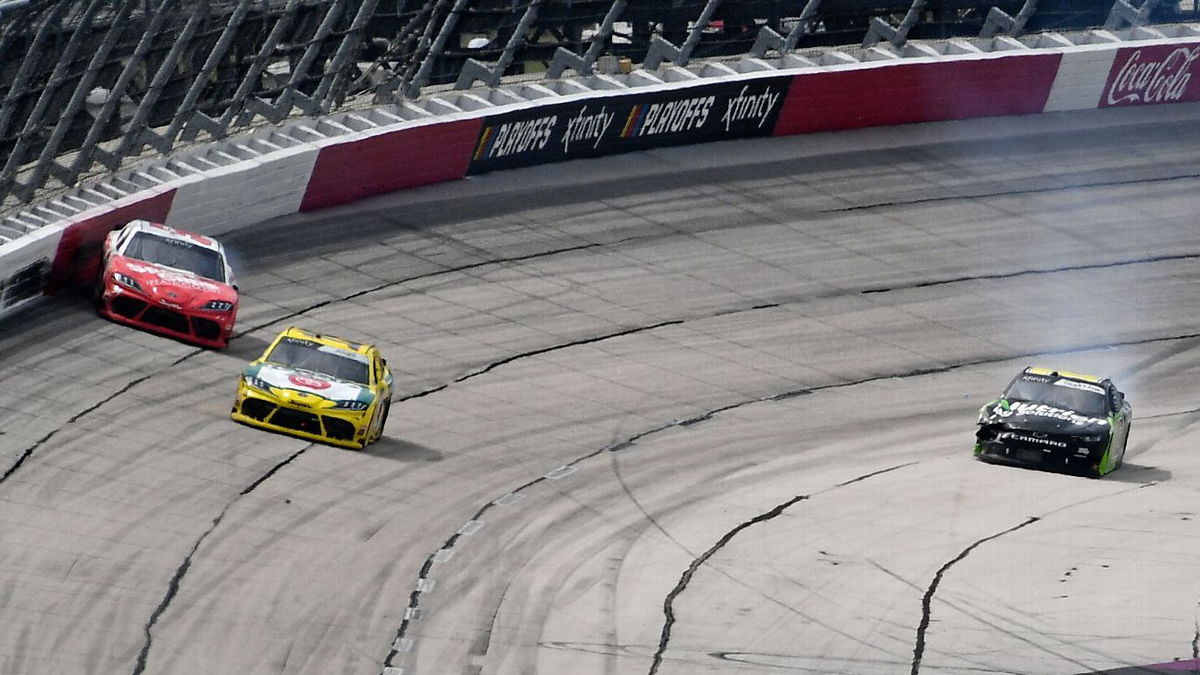 Despite the intense battle during those last two laps, Chastain reserved praise for the Cup Series title contender Hamlin and said he was proud of his team's effort to battle Hamlin so closely.
Despite still being winless this season, Chastain secured his place in the Xfinity Series playoffs this season. Three races remain in the regular season.