WATCH: Jimmie Johnson's Classy Response to Former US President Barack Obama's "Tickets" Question
Published 05/28/2022, 3:24 PM EDT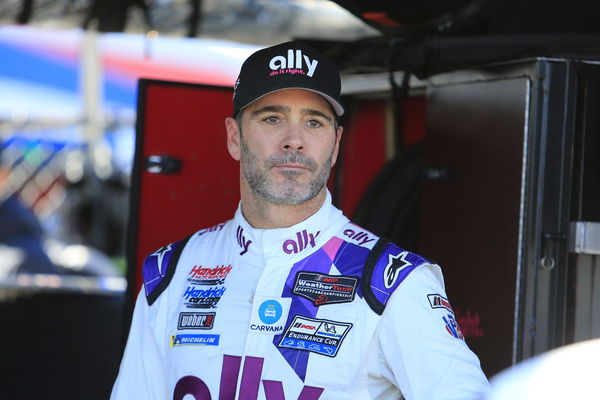 Jimmie Johnson is truly an icon. And not just in NASCAR, but in motorsports. We all knew the #48 Chevrolet going around the oval track was always a scary thing for all other drivers. Of course, the driver has also won 7 Cup Series titles.
And, being one of the most popular entities in the sport means that you get recognized by other popular and known people. in Jimmie Johnson's case, one of those people is also the 44th U.S. President, Barack Obama.
ADVERTISEMENT
Article continues below this ad
The seven-time Cup Series champion went to the white house in the very #48 Chevrolet that won him those titles. He gave the president a quick tour of how the teams make NASCAR Cup Series Stock Car, and how it functions.
Watch This Story: Denny Hamlin '100%' Agrees With Brad Keselowski About NASCAR: "Bad Formula for Success"
However, Barack Obama asked him a very important question.
Barack Obama Asks Jimmie Johnson The All-Important Question
NASCAR Drivers aren't known to be the best drivers on the road. And, the president seems to know that very well. Barack Obama asked Johnson, "Now, tell the truth. Do you get tickets?"
And, Johnson replied by saying, "I haven't had one." This is almost unbelievable that someone as fast as Jimmie Johnson hasn't gotten a ticket yet!
And Johnson did not convince even the president with his answer. In fact, Obama further asked, "Is that because when cops pull you over they're like Hey! Jimmie Johnson, and start talking about racing?"
However, Johnson seems to have a solid answer. He replied, "I'm able to get my aggression out on track and keep it off the streets." And the two burst out laughing!
Kevin Harvick Reveals How Jeff Gordon Decided Hendrick Motorsports' Future After One Race At Darlington
ADVERTISEMENT
Article continues below this ad
An episode of "You Kids Don't Know" by NASCAR on FOX talked about Jimmie Johnson. Johnson, not being the fastest driver in the Xfinity series or even Qualifying or practice, got a ride at Hendrick Motorsports. So, how did he even manage that feat? Kevin Harvick reveals the big reason, and it's Jeff Gordon!
Harvick said, "A lot of people forget why Jimmie Johnson got hired. And, that was because Jeff Gordon saw his incredible car control at Darlington one day."
ADVERTISEMENT
Article continues below this ad
In the end, it really is a shocker how Johnson went his entire career without a single speeding ticker. However, his racing career is not over yet!
Edited By: Ranvijay Singh