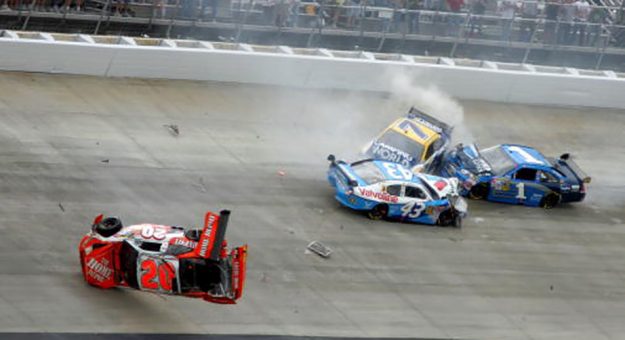 This weekend, the NASCAR paddock heads to the Dover International Speedway as the regular season winds down. Joey Logano will come to the venue, harboring a few bad memories, especially from the AAA 400 NASCAR Sprint Cup race.
As it happened, the driver got tagged into a spin and slid a few meters before hitting the outside wall. Unfortunately, the ride got even bumpier as Reed Sorenson hit the out-of-control car.
At that point, the next 7 seconds felt like hours, as a Logano's #20 car barrel-rolled for a fair few yards. Fortunately, the car finally came to a rest on all four wheels, making it easier for the shaken driver to clamber out.
Big wrecks and flips don't just happen on the superspeedways.

Looking back at @JoeyLogano's wild ride in 2009 at the @MonsterMile ahead of this weekend's Dover Doubleheader. pic.twitter.com/1zet1v5LBN

— NASCAR on NBC (@NASCARonNBC) August 19, 2020
What happened in the race after the Joey Logano crash?
Obviously, Logano's race was done, and his car was an absolute wreck. Apparently, Tony Stewart tagged him into a spin and just managed to avoid a taste of karma. Instead, poor old Reed Sorenson bore the brunt of the accident, and Martin Truex Jr and Robby Gordon were additional victims.
That incident brought out the red flags so that the marshals could clear away the debris. At the same time, they could retrieve the piles of metal and tires that used to be stock cars.
When he spoke to the NASCAR website in 2018, Logano opened up on the accident.
He said, "It is a spectacular moment here. Unfortunately, when people think of Joey Logano and Dover, they think of that big crash. Even if I win, I still think people will think of that crash. That's just what happens until someone else barrel-rolls."
However, he saw the funny side of the crash, where the Dover circuit used it as a marketing ploy. When he returned to the track, there was a race program with the Miles the Monster statue. The statue had Logano's car in its hand and when the cover moved the monster slammed the car into the ground.