WATCH: Joey Logano Shows His Impressive Collection of Ford Cars in His North Carolina Shop
Published 01/05/2021, 11:10 AM EST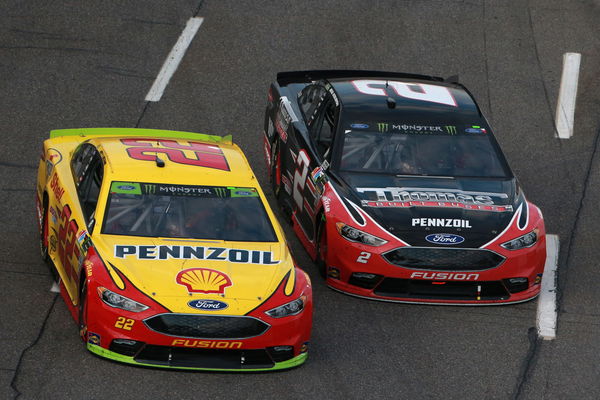 ---
---
Team Penske driver Joey Logano is well-known for being a car lover and has a classic car collection at home. Recently, the #22 driver showed off a collection of his Ford cars. Apparently, the 2018 Cup Series champion is a massive fan of Ford and has raced with them ever since he joined Team Penske.
ADVERTISEMENT
Article continues below this ad
The first car was the 1924 Ford Model T, which is one of Logano's favorites. He admitted, "You feel like you're going 140 mph when you're going 30.
"With these little wheels, the car wants to roll over. Everything you do is backwards, driving it. The way the pedals work and the throttle and all. Just something about hand-cranking the motor is a little bit of a cool factor."
ADVERTISEMENT
Article continues below this ad
What other Ford cars does Joey Logano possess?
Moving to the next car, Logano decided to shift to the modern era with the 2017 Ford GT. According to him, the car makes one feel like they are going at 60 mph when they are going at 140 mph. That particular Ford GT was special because it was a Heritage edition that was only available in 2017 itself.
It is also worth mentioning that the car had the number 2 on it. Obviously, Logano was not too keen on driving around in a car that had teammate Brad Keselowski's number, so they made an exception.
Another car in his garage is his 2019 #22 NASCAR Ford Mustang. This was a special one because it was a drift version of the vehicle.
ADVERTISEMENT
Article continues below this ad
Another car in his collection is the 1971 Ford Mach 1 and the 1991 Ford Mustang. In addition to that, he has a 1935 Factory Five Ford Drift Truck, which is a kit car. From the realm of speed, he slowed things down a little, with the 1961 Ford Econoline and a 1956 Ford Panel Truck.
Also in his arsenal is a 1953 Ford Cab Over Ramp Truck and his 2016 Ford Fusion NASCAR Cup car. It is worth mentioning that it is a 50th-anniversary edition.
ADVERTISEMENT
Article continues below this ad
Closing out the show was his latest baby, a 1930 Ford Model A Rat Rod, which he is quite fond of. Obviously, Joey Logano is enjoying a bit of downtime before the 2021 season kicks off.