WATCH: Junior Rider Celebrates Win with NASCAR Veteran Carl Edwards' Signature Backflip
Published 08/06/2020, 6:45 AM EDT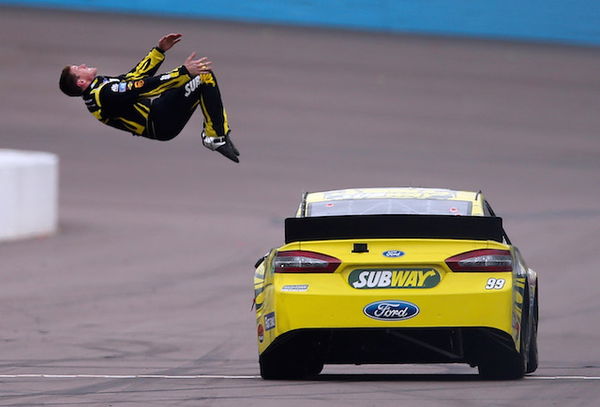 ---
---
Recently, MotoAmerica Junior Cup rider Rocco Landers won the MotoAmerica Superbikes race at Atlanta. After he crossed the finish line, he stopped his victory lap halfway and went over to celebrate with the fans.
ADVERTISEMENT
Article continues below this ad
He parked the bike before climbing over the tire wall and taking off his helmet. Landers then proceeded to mimic the famous backflip celebration of NASCAR driver Carl Edwards.
Edwards is well known for performing a backflip off his car to celebrate a victory. Now, the 40-year-old is happily retired and is enjoying life away from the racetrack.
ADVERTISEMENT
Article continues below this ad
Edwards has 28 wins to his name and the 2007 NASCAR Busch Series Championship, along with a NASCAR Sprint All-Star Race win in 2011.
What inspired Carl Edwards to perform this stunt?
He told ESPN in an interview that baseball player, Ozzy Smith, inspired him to perform that celebration. Edwards confessed that he knew nothing about baseball, but Smith's backflips stood out for him.
Edwards continued, "My buddy had a trampoline so we do it around the trampoline and that's how I learned."
ADVERTISEMENT
Article continues below this ad
Another inspiration was the former NASCAR driver, Tyler Walker, who also used to perform backflips. It is also worth noting that Carl Edwards unleashed the backflip back in 2003 during the NASCAR Truck Series after his maiden win.
However, he noted that performing backflips on trucks was easier since the back of the truck was flat.
So, when he had to do it in a regular stock car, he was worried about catching his feet on the windowsill. In fact, his first stunt was not properly executed, and he half landed on his hands.
ADVERTISEMENT
Article continues below this ad
He also experimented with flipping with his helmet on, but the extra weight of the helmet and HANS device hobbled him.  There was also one occasion where he did not feel like doing it, and the fans were not pleased at all. As a result, they began to boo him even though he won.
SOURCE- FOX: NASCAR- Twitter