WATCH: Kevin Harvick and Denny Hamlin Face Massive Issues as Wet Conditions Cause Chaos at Texas
Published 10/25/2020, 5:11 PM EDT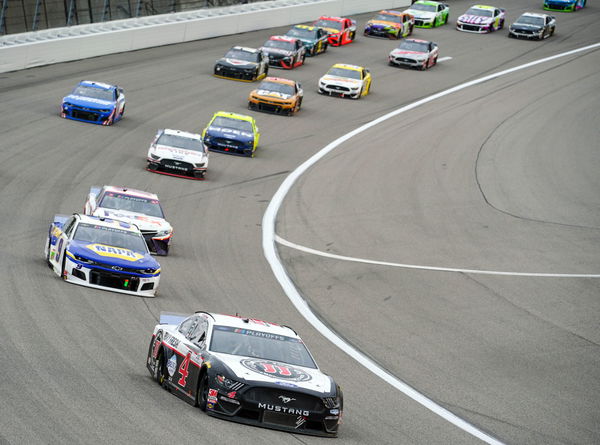 ---
---
Just minutes after the start of the NASCAR Cup Series playoff race at Texas, Kevin Harvick hit the wall and fell behind. It could also be a big moment in the battle for the 'championship 4' contention. Harvick then complained about the track being wet as the rain started wreaking havoc for the drivers.
ADVERTISEMENT
Article continues below this ad
Many other drivers followed Harvick in complaining about the rain, and the caution came out soon after.
Harvick took the lead on Lap 28; however, he and Denny Hamlin both had issues on the restart that kick-started their problems on the day. Hamlin went up the track on the restart and lost a lot of spots in the race. Unlike Harvick, he did not hit the wall, but the incident did set him quite behind in the race.
ADVERTISEMENT
Article continues below this ad
Some early issues for championship favorites Kevin Harvick and Denny Hamlin. 40 laps into the race, Harvick is 5 points above the cutline and Hamlin is 11 points below. pic.twitter.com/JTTyAt4ai1

— Matt Mayer (@MatthewMayerCBS) October 25, 2020
What troubles did Kevin Harvick face?
Harvick was in trouble soon as he hit the wall and said there was smoke coming from his car. The nine-time race winner of the season was then forced to pit due to the issue.
"It is f**king raining. It's ridiculous," Harvick was then heard as saying on his team radio. "Man it's raining pretty good down here," he added further.
His Crew Chief Rodney Childers then added to the chorus, saying, "My computer is so wet, my mouse won't even work."
His spotter, Tim Fedewa told Harvick that they complained about the wet conditions, but had no luck in that regard. "10-4. We've been trying to get help with that for a long time. Just ain't working," Fedewa said.
Massive implications for the playoff battle
ADVERTISEMENT
Article continues below this ad
After fixing the issue, Harvick told his team he was still facing issues with the tires. He felt something was rubbing at the end of the tires on the straightaways and asked his team to help him out again. It was not the situation any expected for the most successful driver of the season, so early in a crucial race.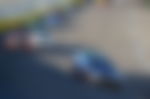 At one point in the early parts of the race, Harvick and Hamlin were just 11 points above the cutoff spot. If that continues, it blows the 'Race to Phoenix' wide open.
ADVERTISEMENT
Article continues below this ad
Soon, the red flag came out for mist on the track and the race was stopped. Eventually, the race was postponed to Monday and will resume from where it stopped. Hamlin was in 15th place, while Harvick was in 36th place when proceedings took a halt. They face a tough task on Monday.