WATCH: Kevin James and the Cast of Netflix's New NASCAR Show Race Each Other on NASCAR Heat 5 game
Published 02/25/2021, 5:08 AM EST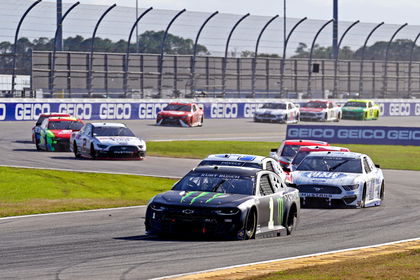 ---
---
When the Daytona 500 kicked off earlier this month, Netflix released a new NASCAR-themed sitcom show. Recently, the cast members of the show decided to sit down for a small online racing game. Everyone was racing each other on NASCAR Heat 5 and it was a fun affair. Actor Kevin James and six cast members of The Crew went head-to-head with each other.
ADVERTISEMENT
Article continues below this ad
On the show, James and the cast, play the roles of a NASCAR pit crew. However, in this scenario, everyone was checking their skills as an actual driver on the videogame, NASCAR Heat. First and foremost, everybody decided to have a practice run at the Atlanta Motor Speedway. There were plenty of shenanigans and close calls between the racers during the practice run.
While driving, Kevin James regaled some interesting stories about his NASCAR experience. Apparently, he had a chance to go in the pace car once, but the person driving him proceeded to traumatise him on the track. When the practice race ended, reel-life driver Freddie Stroma finished first, ahead of Paris Berelc and Jillian Mueller.
ADVERTISEMENT
Article continues below this ad
How did the NASCAR Heat race pan out?
ADVERTISEMENT
Article continues below this ad
This time, the venue was the Autoclub Speedway in California and the stakes were high. All seven participants had to complete four laps and the winner would receive a prize. Since this was a proper race, it was no-holds barred and every man and woman for themselves.
Right off the bat, there was carnage, as Kevin James got taken out early and ended up facing the wrong way. Meanwhile, Dan Ahdoot found himself taking on a new job as a high-speed lawn mower. Knowing that he was facing the wrong way, James tried to create more chaos by driving in the wrong direction. He clearly hoped to cause a head-on collision and wreck everyone on the track.
Sadly for him, that did not come to pass, as he ghosted through everyone. At the front, there was more drama as Stroma and Berelc duelled, while James got hopelessly lost. Finally in the end, Paris Berelc won the NASCAR Heat 5 race.
ADVERTISEMENT
Article continues below this ad