WATCH: Kurt Busch's Awesome Surprise for Brother Kyle Busch After Kansas NASCAR Cup Win on His Birthday
Published 05/03/2021, 8:45 AM EDT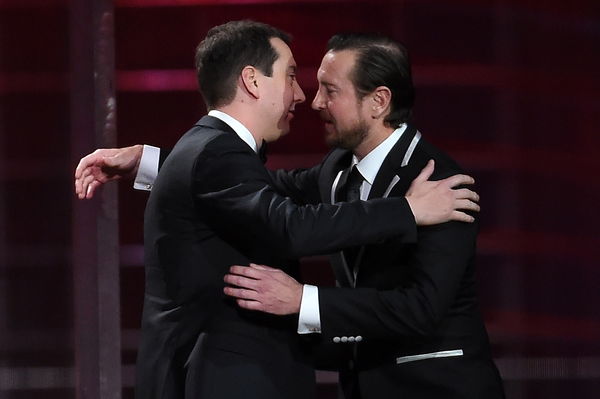 ---
---
Kyle Busch got his much-awaited win in the NASCAR Cup Series, winning the Buschy McBusch Race 400 at Kansas Speedway on Sunday. The win was even sweeter as it acted as the perfect birthday present for the two-time NASCAR Cup champion.
ADVERTISEMENT
Article continues below this ad
However, another surprise birthday present was awaiting Kyle Busch as he headed to the airport. Kyle's brother, Kurt Busch, who finished 15th in Sunday's race, already had plans to surprise his younger brother on his birthday.
Kurt had hired a mariachi band for Kyle's birthday and Kurt planned to celebrate with his brother after the race. Adding to the cause of celebration, Kyle went on to win the big race. The party then turned into a birthday plus victory celebration.
ADVERTISEMENT
Article continues below this ad
Kurt was relieved that Kyle pulled away on those final restarts and did enough to win the race. If not, he would've met a "grumpy Kyle" at the airport.
Kyle Busch celebrates the big day with his brother Kurt
Sometime later, a thrilled Kyle entered and his older sibling greeted him with some music and a congratulatory drink. It was wonderful to see the two brothers celebrate the happy day, made happier with Kyle's victory. Kurt then vowed to make his brother wait back for a few more songs.
Kyle's wife, Samantha, and son, Brexton also joined over a video call to celebrate.
Kurt ensured that Kyle would always remember his 36th birthday for the fun celebration. The Joe Gibbs Racing driver became the second driver – after Cale Yarborough – in NASCAR history to win more than once on his birthday. Kyle's first birthday win came 12 years ago, during the Richmond 2009 Cup Series race.
With Sunday's win, Kyle also tied David Pearson for 17 consecutive NASCAR seasons with at least one win. He tied Richard Petty in the process.
"No better day to win," says Kyle
ADVERTISEMENT
Article continues below this ad
After his win, Kyle was asked how it was to win on his birthday. He admitted that he isn't big on birthdays and treats them as just another day. At the same time, it is very special to mark the day with a race win.
"It's just another day. It's another race. Fortunately, it's pretty cool. Not a lot of guys have done it on their birthday, so this is — there's no better day to win I guess than on your birthday. You get to party twice. We'll see how all that turns out tonight," Busch said on the same.
However, he had no idea that a surprise was already waiting for him at the airport and his brother made it worthwhile.
ADVERTISEMENT
Article continues below this ad