WATCH: Kyle Busch, Kyle Larson, Ryan Blaney, Alex Bowman in Massive 'Parking Lot' Crash in NASCAR Bristol Dirt Race
Published 03/30/2021, 7:00 AM EDT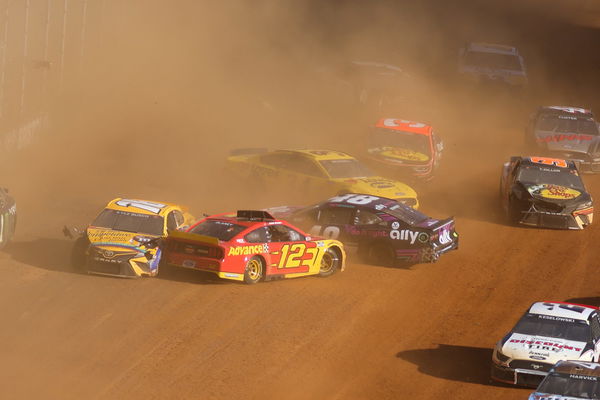 ---
---
The NASCAR Cup Series has made its return to dirt racing after five decades, and the race was eventful, to say the least. Multiple cautions came out throughout the race, courtesy of multiple wrecks, and one particular 'big one' involved Kyle Busch, Kyle Larson, Ryan Blaney, and Austin Dillon, among others.
ADVERTISEMENT
Article continues below this ad
With all the dust around due to the dirt track, visibility became a massive issue for everyone involved. There were situations when drivers had no idea where they were among traffic.
The crash kicked off when Blaney went for a spin amidst traffic, just after a restart. He collected Busch in the process and multiple cars stacked up behind them, in what turned out to be a 'parking lot' wreck, given how the cars lined up.
ADVERTISEMENT
Article continues below this ad
Alex Bowman and Michael McDowell collided with Blaney and stopped in the middle of the track. Austin Dillon and Kyle Larson, who were right behind, also smashed into the collected cars. Quin Houff, Ryan Preece, Cody Ware, and J.J. Yeley also suffered as a result of the crash.
Race favorite Kyle Larson had a day to forget in Bristol
Larson and Busch were already having a pretty rough day, made rougher by the big wreck. Larson, one of the favorites to win the dirt race, was earlier involved in another huge crash. That wreck involved another race favorite, Christopher Bell, and Ross Chastain.
While Larson was able to continue somehow, these two big wrecks effectively ended any chances he had of winning the race.
Just before the 'parking lot' wreck, Bubba Wallace and Chase Elliott made contact with each other as well. The visibility kept getting more and more difficult to maneuver, and Kyle Busch had his say on that.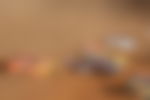 Kyle Busch raises serious concerns about visibility in NASCAR Cup Series dirt race
"Man, you can't see anything. Nothing. You cannot see even the car in front of you," Busch said on his team radio. He eventually finished the race in 17th place.
Blaney, who suffered massive damage to the rear of his car, quite amazingly, held on for a top-10 finish. Larson had to settle for a 29th place finish.
ADVERTISEMENT
Article continues below this ad
Blaney's Penske teammate Joey Logano won the first NASCAR Cup Series dirt race in 51 years, holding off Denny Hamlin in a thrilling finish. Logano's win gave Team Penske back-to-back victories after Blaney won last weekend in Atlanta. The Cup field next moves to Martinsville Speedway for the night race after a break this weekend.
ADVERTISEMENT
Article continues below this ad
MORE – WATCH: Favorites Kyle Larson, Christopher Bell Face Heavy Damage in Massive Wreck in NASCAR Bristol Dirt Race