WATCH: Kyle Busch's Savage Response to Christmas Present Question About Bitter NASCAR Rival Brad Keselowski Back in 2017
Published 05/12/2022, 12:30 PM EDT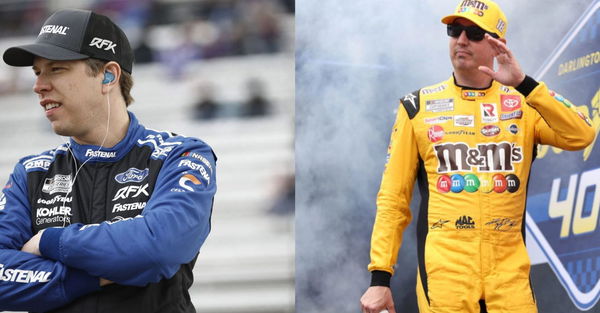 Not only is Kyle Busch one of the most talented drivers of all time, but he's also one of the most quotable, the funniest, and the most eccentric. Busch's responses are often straightforward, inconsiderate, and hilarious.
That's quite a difficult combination to strike at once, but it's something at which the Joe Gibbs Racing driver is a master.
Take, for instance, his hilarious reply to a fan during the NASCAR After The Lap media appearance in 2017. A fan asked, "Kyle Busch, what are you buying Brad Keselowski for Christmas?"
ADVERTISEMENT
Article continues below this ad
"He's already going to hell. So it's not like I gotta buy him a trip there," Busch replied, much to the laughter of the fans in the audience as well as his fellow drivers.
Did Kyle Busch park his car intentionally at pit road entry in Darlington?
In the recent NASCAR Cup Series race at Darlington, Kyle Busch suffered a wreck at the hands of Brad Keselowski, after which he took his car to the pit road and left it there.
This was something that Freddie Kraft, the NASCAR spotter for Bubba Wallace, not only showed his frustration with but theorized that what he did, was possibly a pay-back to NASCAR for a similar incident from last season.
"Kyle Busch has the ability to be a complete a*****e at times. And sometimes his attitude is very calculated," Kraft said in a recent episode of the Door Bumper Clear podcast. "If you remember last year, he got fined $50,000 for driving through the cones and almost hitting a person as he pulled into a garage. So in his mind, this is what his response to NASCAR."
ADVERTISEMENT
Article continues below this ad
"As mad as he was at this point, he's still thinking back to last year where, 'You know what? They fined me for hitting the cones. They fined me for driving through the garage. You know what? I'm gonna park this thing right here and I'm gonna get out. You can come and get it.'"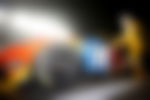 Freddie Kraft went on to describe just how Kyle Busch leaving his car on the pit road affected the race for other teams. And for that, NASCAR shouldn't let him get away with it.
ADVERTISEMENT
Article continues below this ad
"If NASCAR does not hammer him for this, because…we waited three or four laps to open pit road because Kyle Busch's car was sitting in the middle of the pit road," he emphasized.
Watch This Story: Dale Earnhardt Jr Anoints New NASCAR Regulation as "Kinda Hit or Miss"