WATCH: Kyle Larson Suffers an Unfortunate End to his NASCAR Talladega Race in Just 8 Laps
Published 04/27/2021, 8:00 AM EDT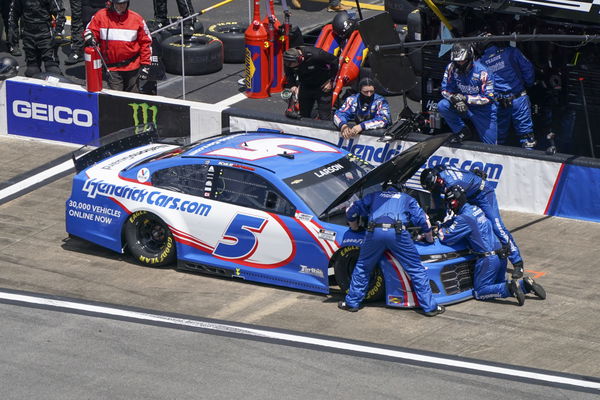 ---
---
The Hendrick Motorsports team endured a nightmare in the office at Talladega. Kyle Larson was forced to take an early shower after his car's engine blew. Apparently, there was a sheet of metal between the radiator and the air ducts. As a result, it caused the car to overheat. One of the crew members forgot to remove it, and unfortunately, Larson paid the price.
ADVERTISEMENT
Article continues below this ad
Later on in the race, the rest of the Hendrick Motorsports cars encountered drama. Denny Hamlin and Martin Truex Jr got wrecked during Stage 2 and William Byron, Chase Elliott, and Alex Bowman spun off. In the end, Byron was the only driver with a reason to smile, as he finished second behind Brad Keselowski.
ADVERTISEMENT
Article continues below this ad
Kyle Larson was not the only Hendrick Motorsports driver in trouble
Meanwhile, Elliott was 24th, and Bowman crashed out. Another victim of a wreck was Joey Logano, but that is a different story. All in all, it capped a wretched day in the office for the Hendrick Motorsports team. They could have brought in a good points haul, but luck was not on their side on Sunday. Now, all that the team can do is look ahead to the next race.
ADVERTISEMENT
Article continues below this ad
Luckily for Kyle Larson, he is still relatively safe in the championship battle. He currently sits ninth in the standings and should qualify for the playoffs, unless something goes dramatically wrong. Byron and Elliott are also quite safe, though the former is higher in the standings. However, Alex Bowman could be vulnerable in 14th place, despite a win at Richmond.
Admittedly, he does not have a great track record at Talladega and this was just one more black mark on his scorecard. Of course, the 2021 Cup Series season has not been too bad for the Asian-American driver. He won at Las Vegas and has consistently put in good performances this season.
ADVERTISEMENT
Article continues below this ad
The good news for the Hendrick Motorsports team is that the season is still long. In other words, there is plenty of time for the outfit to bounce back and re-establish themselves as one of the strongest NASCAR teams.