WATCH: Kyle Larson Suffers Huge Impact in Massive Crash With Mike Marlar in NASCAR Trucks Bristol Dirt Race
Published 03/30/2021, 1:00 PM EDT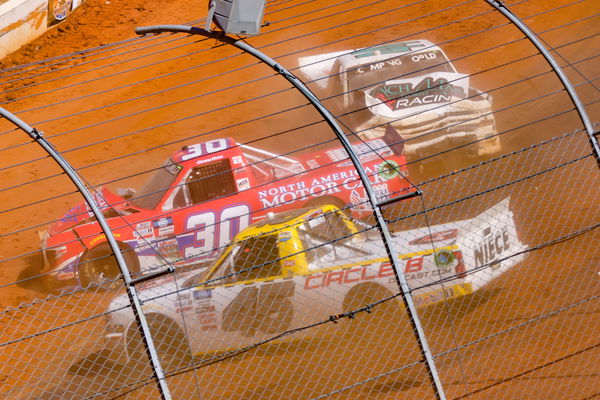 ---
---
The NASCAR Truck Series race at Bristol witnessed quite a few incidents take place. One of them involved a heavy impact for Kyle Larson in his #44 truck. Early on in the race, he and Hailie Deegan barely dodged Chandler Smith's spinning truck. However, he was not so lucky the second time around.
ADVERTISEMENT
Article continues below this ad
The whole thing started when Mike Marlar had a big moment and was slow away. As the other cars tried to pass him, Kyle Larson couldn't quite make it and collided hard; even Brett Moffitt and Danny Bohn got caught up in the accident. The right side of the Larson truck received the most damage.
ADVERTISEMENT
Article continues below this ad
Apparently, Marlar had lost a chunk of momentum at Turn 2. So, by the time he reached the back straight and entered Turn 3, the faster trucks had nowhere to go. It is important to note that the trucks are already sideways, so there is little that the drivers can do to correct the trucks' trajectory.
What did Kyle Larson say about the incident?
In the wake of the accident, Larson spoke about it from his perspective. He said, "My spotter said that they were slowing on the back stretch. I saw some trucks slowing on the bottom and I was running top side. So I thought 'I'm going to get a lot of spots'. I committed up top and there was somebody parked there. I slid down the track and got hit by the #30.
"Our truck wasn't very great, but we're making adjustments on it."
ADVERTISEMENT
Article continues below this ad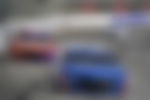 On the bright side, he took away plenty of lessons to help him in the Cup race. However, this race was completely out of his hands, and poor old Danny Bohn was an innocent victim. Meanwhile, Moffitt also spun while trying to avoid the stricken truck of Kyle Larson.
Truthfully speaking, nobody could be blamed, as Larson was stuck behind Sheldon Creed and a little unsighted. Now, all that he can do is sit and ruminate on what could have been.
ADVERTISEMENT
Article continues below this ad
MORE: WATCH: Kyle Busch, Kyle Larson, Ryan Blaney, Alex Bowman in Massive 'Parking Lot' Crash in NASCAR Bristol Dirt Race