WATCH: NASCAR Xfinity Series Driver Lands on His Roof After Scary Accident at Kansas
Published 10/18/2020, 9:25 AM EDT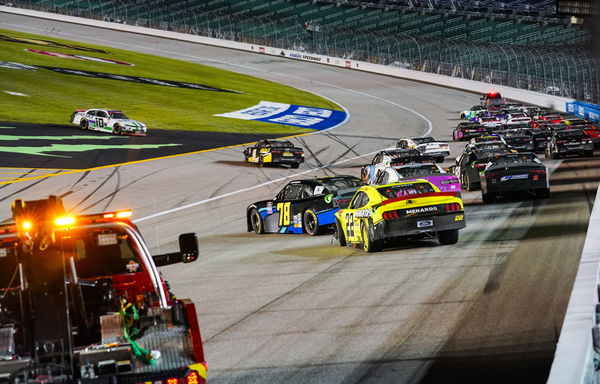 On Saturday, the NASCAR Xfinity Series race at the Kansas Speedway concluded with Brett Moffitt winning. However, the action unfolded behind him in spectacular fashion. To be precise, Anthony Alfredo got send on a wild ride after a collision sent him airborne and on his roof.
Up until that moment, he had been enjoying a great race. With 28 laps left, he was four-wide into the corner when it went horribly wrong. The #7 car of Justin Allgaier clipped him and Alfredo got sent into the unforgiving wall. When he hit it, Anthony Alfredo's car ended up on its side and sliding along the wall. After a few moments, the #21 car detached itself from the wall and ended up on its roof.
ADVERTISEMENT
Article continues below this ad
It is also worth noting that Riley Herbst and Clay Greenfield were innocent victims in the accident, and their races were over. Luckily, the track marshals were able to gingerly get the car back on four wheels without injuring the driver. Eventually, he clambered out and gave a thumbs up to indicate that he was alright.
What did Alfredo say about his crash in the NASCAR Xfinity Series race?
ADVERTISEMENT
Article continues below this ad
The 21-year-old thanked the safety crew and the sturdiness of his car for saving his life. He tried to play off the incident as pure hard racing, which lasted until he witnessed the severity of the crash. Upon seeing the carnage, he said, "Yeah that's pretty nuts! I'm just glad to be okay and I just want to say I am good, to all my friends and all my family. It's been an awesome year so far, we still got one more shot to win a race at Texas next week."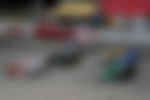 Anthony Alfredo confessed that he has had a number of different sponsors and wanted to thank them. He also expressed his desire to race in the Xfinity Series on a full-time basis and challenge for the championship. Alfredo concluded, "I wish I could have flipped back over and kept digging. I was having a blast tonight at the Kansas Speedway."
ADVERTISEMENT
Article continues below this ad
Now, all that he can do is get over his disappointment quickly and focus on the next race. Hopefully for his sake, the Texas Motor Speedway should provide him with a bit more success.