WATCH: Phoenix Raceway Takes No Prisoners as Chase Elliott and Todd Gilliland Spin During Testing
Published 01/27/2022, 3:45 AM EST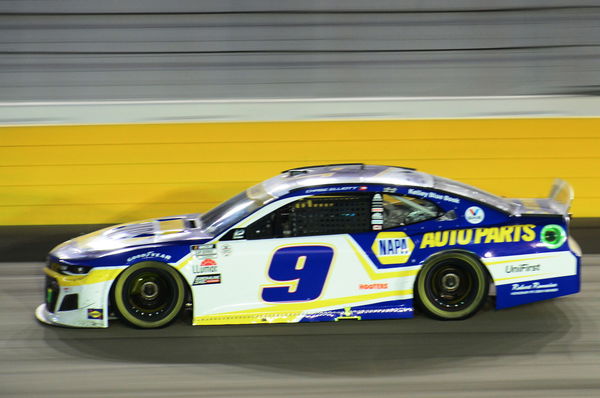 When NASCAR officials said that they did not want to make the Next Gen cars easier to drive, they meant it. During each of the pre-season tests that have taken place, a number of drivers have spun. Kyle Busch fell victim to the car's unpredictability when he spun off in the Wednesday session. Unfortunately, in the Thursday session, Todd Gilliland and 2020 champion Chase Elliott were not so lucky.
Heading into the corner, much like Busch before him, Gilliland lost the rear end of his #38 machine. The bad news was that, unlike Busch, poor old Todd Gilliland could not keep his car out of the wall. As a result, the left rear of the Next Gen Ford clipped the SAFER barrier in a glancing blow.
ADVERTISEMENT
Article continues below this ad
Fortunately, he was able to keep the car running and limp back to the pits for repairs. Before long, Gilliland got a chance to rejoin the action, especially now that he knew the limits of his car.
ADVERTISEMENT
Article continues below this ad
Chase Elliott was also having trouble in the test session
While all this was going on, Chase Elliott was having his own problems. Apparently, he spun twice in the session, luckily missing the barriers on both occasions. The first spin occurred as he exited the final corner and he went sideways before his car came to a rest, pointing in the right direction.
ADVERTISEMENT
Article continues below this ad
It only got worse from there, as the Hendrick Motorsports driver really seemed to struggle. In fact, he had a second spin, this time producing a lot of smoke. This really hammered home the fact that Turn 4 at the Phoenix Raceway was quite tricky in the Next Gen car. To be exact, Busch, Gilliland, and Elliott were all caught out at the same corner. In Elliott's case, the two spins seem to indicate that he is struggling to adapt to the car.