WATCH: Pit Crew Member Has 'Scary Moment' as Daniel Hemric Almost Hits Him in NASCAR Xfinity Race
Published 03/01/2021, 5:30 AM EST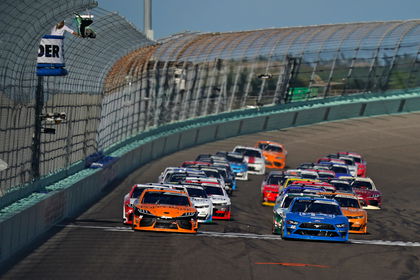 ---
---
During the NASCAR Xfinity Series race at Homestead-Miami, Daniel Hemric proved that racing is still dangerous. It is not just the drivers who are at risk, but spectators, marshals, and even pit crew. Apparently, there was a small incident in the pit lane when Hemric overshot his mark.
ADVERTISEMENT
Article continues below this ad
As he dived into his box, he accidentally knocked over one of his tire crew members. The good news was that the man was able to walk away unscathed. Admittedly, the fault likely lay in Hemric's direction, because the pit lane was not overly crowded. Upon further analysis, it transpired that Daniel Hemric turned his car a little too late.
ADVERTISEMENT
Article continues below this ad
As a result of the mishap, he nearly ended up in the wrong pit box and almost clocked his crewman. On a slightly pressing note, the pit crew member had two tyres in his arms when he got side-swiped. As a result, he was forced to let go and one tyre almost rolled into the path of other cars.
Daniel Hemric apologized to the team for the mishap in the NASCAR race
ADVERTISEMENT
Article continues below this ad
Obviously, the contact was unintentional, and the driver apologized profusely to crewman Josh Shipplett. It is worth noting that Shipplett complained about right rib pain in the aftermath the incident. Owing to the contact, he was promptly carted off to the infield care center for further examination.
Following the checkup, the crewman was advised to stay away from the track for a while. In the meantime, one of Harrison Burton's pit crew acted as a substitute.
On a slightly worrying note, Shipplett's incident could potentially affect one of the Cup Series drivers. To be precise, he is part of pole-sitter Denny Hamlin's pit crew for the Dixie Vodka 400. Admittedly, this could be a problem is Shipplett cannot make a full recovery in time for Sunday's race.
ADVERTISEMENT
Article continues below this ad