WATCH: Ryan Blaney Wins Consecutive Races at Talladega by 'Fraction of a Second'
Published 10/02/2020, 1:30 PM EDT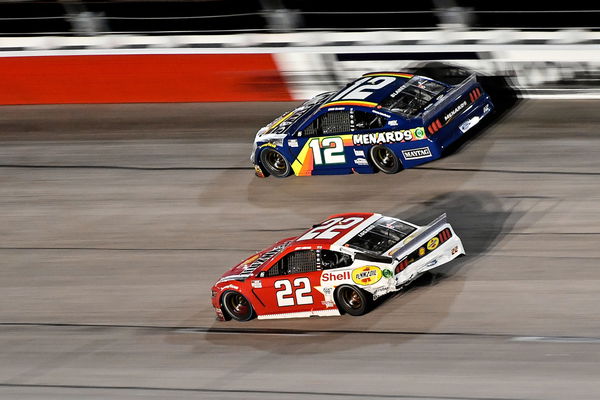 ---
---
During the 2020 GEICO 500 at Talladega Superspeedway, Ryan Blaney endured a wild finish and barely won from Ricky Stenhouse Jr. However, the action unfolded right behind him, courtesy Aric Almirola.
ADVERTISEMENT
Article continues below this ad
In the final few laps, there was a whole gaggle of cars squaring off against each other. With Kevin Harvick leading the pack, everyone scrambled to catch him, and that took out a couple of cars.
This thinned the herd down to 14 cars in the lead pack, and soon Ryan Blaney took the lead. However, he soon came under attack from Erik Jones and John Hunter Nemechek. The two got up alongside Blaney, but Nemechek got bumped into the wall.
ADVERTISEMENT
Article continues below this ad
How did Ryan Blaney win at Talladega amid the madness?
As Nemechek hit the wall, Aric Almirola tried to attack for the win. However, he spun while trying to avoid the wreck in front of him. Meanwhile, Ricky Stenhouse Jr took capital advantage and tried to mount and attack, and he came ever so close to that elusive win.
In the end, Ryan Blaney beat him by a hair's breadth at the line in an epic photo finish. However, Aric Almirola gets brownie points for finishing the race in style. Sure, he spun off while trying to avoid clattering Blaney, but he was able to keep away from the wall and cross the line backward.
ADVERTISEMENT
Article continues below this ad
In addition to style points, Almirola would also be thrilled to learn that he also won a photo finish battle against Denny Hamlin. It is also worth noting that the last time NASCAR visited Talladega Superspeedway, Blaney edged out Ryan Newman in yet another photo finish.
ADVERTISEMENT
Article continues below this ad
So the big question is, 'Can Ryan Blaney make it a hat-trick of race wins and photo finishes?'. Obviously, he would be hoping for another Talladega win, hopefully without the photo finish part. However, if it comes to it, he will happily take the win, as it makes his achievement all the more amazing.
Of course, he has a tough task ahead of him if he wants a hat-trick of wins, all the way in 14th place. Last time around, he started the race in 9th place, so it should be possible once again.