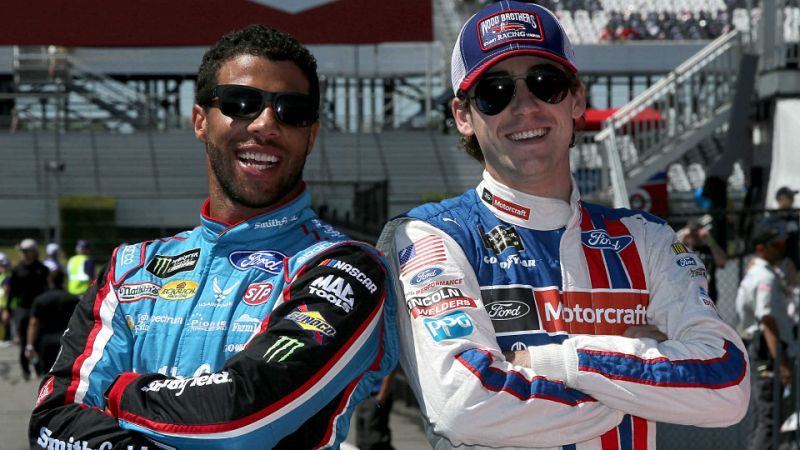 On Sunday, Ryan Blaney had a bit of a wild moment during the Cup Series race in Kentucky. During the final lap, Blaney ran over a drainage ditch/bump on the apron.
Apparently, it caused the car to 'bunny hop' briefly before gravity made its presence known. This reminded many of a similar moment involving Bubba Wallace, who also did a bit of hopping, though his reaction was priceless.
Speaking to NASCAR, he admitted that he was aware of the bump's presence, but underestimated its size. This certainly came back to bite him hard when he realized that his car had all four wheels off the ground.
Racer.com reports, Ryan Blaney flipped the bird at physics and gravity, before the car landed back on earth. Upon landing, the car momentarily lost control and he fought it.
Luckily, an unsuspecting Kevin Harvick inadvertently helped stabilize the car, leaving the latter with nothing but a tire rub.
.@BubbaWallace and @Blaney:

Best friends: ✅
Good at catching air unintentionally on-track: ✅ pic.twitter.com/sO9ZZjFoGT

— NASCAR (@NASCAR) July 13, 2020
Blaney's move made everyone recall that of Bubba Wallace
Blaney found himself in that position as the outcome of a four-wide battle for the lead on the penultimate lap. Blaney chose to stick to the inside of Harvick, Martin Truex Jr., and eventual race winner, Cole Custer.
Wallace's situation was a little different, however, it yielded the same result. At the Pocono 350, Ryan Preece's #37 car spun towards the wall on the inside.
As it turned out Bubba Wallace happened to be in the way and almost on a collision course. Luckily, he gunned the throttle and barely missed getting T-boned. In the process, he ran over a bump and bunny hopped as well.
Suffice to say, Wallace's reaction to being seconds away from the disaster was priceless. He whooped and expressed his excitement on the radio. Sadly, in that race, Bubba Wallace could only muster a lowly 20th place.
Nonetheless, it was much better than spending the race sitting on the sidelines with a wrecked car. At least Ryan Blaney was able to finish 6th at the Kentucky Speedway.
Read More: WATCH: Bubba Wallace Narrowly Avoids a Massive Wreck by Inches and Goes Ballistic