WATCH: Ty Gibbs Pulls Off 'Stunning Move' in Overtime for Surprise Win in NASCAR Xfinity Series
Published 02/21/2021, 1:20 PM EST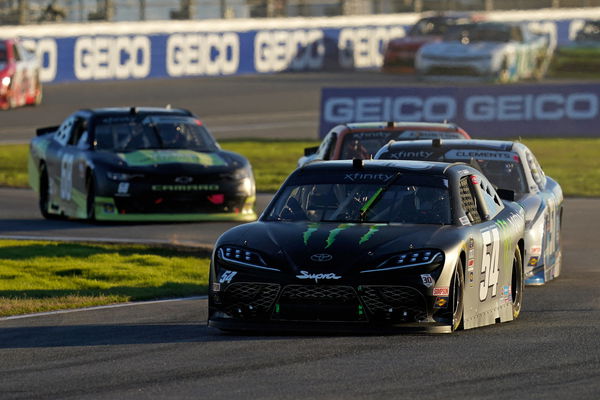 ---
---
Ty Gibbs was a really happy camper when he clinched his maiden Xfinity win. To make matters even sweeter, this also happened to be his debut race.
ADVERTISEMENT
Article continues below this ad
Suffice to say, his grandfather, Joe Gibbs, was utterly delighted. It is also worth mentioning that Gibbs pulled off an epic move to get into contention.
Speaking about his win, he admitted, "I thought a good night for me would be a run in the Top 7. I completely surprised myself tonight. That's the first time I've really done that.
ADVERTISEMENT
Article continues below this ad
"Coming up to a bigger series like this is something that guys dreamed of racing in. I really have no words, I have one now and have so many emotions, I'm a train-wreck right now.
"Thought I was just coming out here and logging in laps and just get a decent finish."
How did Ty Gibbs win the race?
On the final restart, Gibbs found himself in 5th place. Then, he performed a daring move that rocketed him up to 2nd, right behind Jeb Burton.
As he dove down the inside of three cars, Brandon Jones nearly forced him onto the grass. However, it was to no avail, as Gibbs managed to slip past and slot into 2nd.
ADVERTISEMENT
Article continues below this ad
From there, he plunged down the inside of Burton and wrestled the lead from him. Soon, championship leader Austin Cindric snuck into 3rd ahead of Jones.
All this was in spite of sustaining some damage on his front left during the race. Before long, he had made short work of a struggling Burton and set about chasing Gibbs.
At this point, Ty Gibbs and Austin Cindric engaged in a high-speed game of cat and mouse. However, it was too little too late for Cindric, and Gibbs etched his name in the history books as the youngest Xfinity road course winner at Daytona.
ADVERTISEMENT
Article continues below this ad