WATCH: When a Car Cover Got the Better of Cole Pearn at Las Vegas Motor Speedway
Published 09/26/2020, 2:02 PM EDT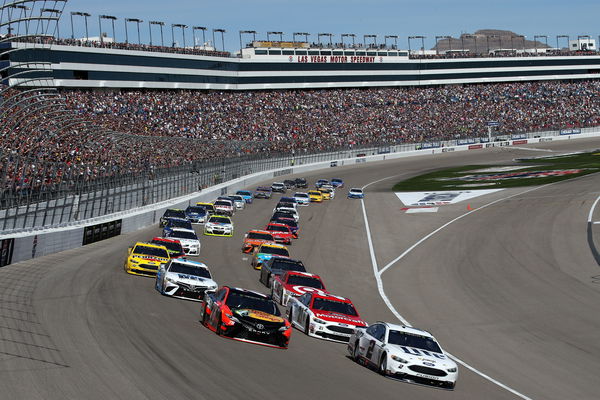 ---
---
Back in 2016, the Las Vegas Motor Speedway race in March was a wet affair. When the race was halted due to the rainy weather, former NASCAR driver, Cole Pearn, found out that it was windy the hard way.
ADVERTISEMENT
Article continues below this ad
At the time, Pearn was Crew Chief to the #78 car housing Martin Truex Jr. Apparently, when he tried to get the cover on the car, the wind blew it right off and it practically smothered him. Eventually, he was rescued by the rest of the crew, though there were plenty of laughs.
The Furniture Row Racing driver enjoyed a decent qualifying session, with 10th on the grid. In race conditions, that was the best that the #78 car could muster up, as Truex Jr. ended up 11th fastest.
ADVERTISEMENT
Article continues below this ad
What else happened at the Las Vegas Motor Speedway in 2016?
While all this was going on, Kurt Busch took pole at the Kobalt 400. Unfortunately, he could not make it last and Brad Keselowski emerged as the winner. The pole man eventually ended his race down in 9th place at the rain-interrupted race.
ADVERTISEMENT
Article continues below this ad
Initially, the skies were clear in Nevada, when Kurt Busch led the pack. However, sometime during the race, there were various reports of debris scattered all over the track. They didn't come from the cars themselves, but 30 mph gusts of wind blew them onto the track.
Soon, the rain came pouring down and the first caution flag waved at the Las Vegas Motor Speedway. Joey Logano soon took the lead, but teammate Brad Keselowski looked very threatening.
Then, more debris blew onto the backstretch and forced a second caution on Lap 99. After a while, Keselowski picked up a penalty for speeding on the pit road and dropped way down the order.
ADVERTISEMENT
Article continues below this ad
Disaster struck, as the windy conditions led to a dust storm southeast of the track. The good news was that it soon passed, and normal operations resumed, with 64 laps to go.
After some more stopping and restarting, Kyle Busch found himself in the lead with 35 laps to go. Busch got a good start and began to pull away, only for Keselowski to reel him back in and pass him in the dying laps of the race.