WATCH: When Chase Elliott Was Furious With Denny Hamlin After Their Incident at Martinsville
Published 10/31/2020, 1:52 PM EDT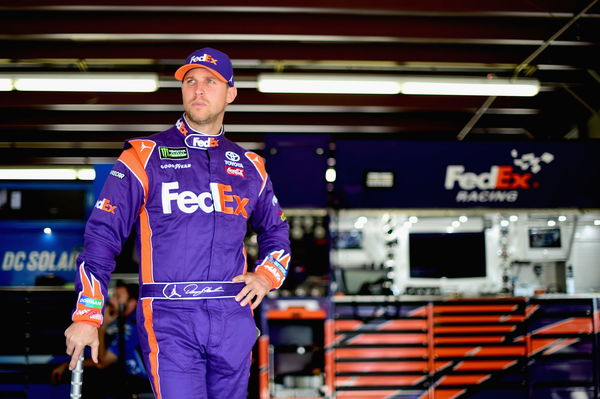 ---
---
Back in 2017, Denny Hamlin became a hugely disliked figure at the Martinsville Speedway. Apparently, Chase Elliott was primed for a maiden victory in the Cup series and sealing a berth in that year's Playoffs.
ADVERTISEMENT
Article continues below this ad
Unfortunately, Hamlin got in the way and robbed him of the win, and Elliott was furious. In the end, Kyle Busch reached the chequered flag first and secured his slot in the Championship 4. However, all eyes were on Denny Hamlin and Chase Elliott, and what they would do next.
For the first time, Denny Hamlin was literally booed off the track. During the race, the two tangled a few times, with Elliott coming off worse, and the fans did not appreciate that. This was largely due to the fact that it could have been a dream come true for Elliott.
ADVERTISEMENT
Article continues below this ad
Fans were not happy with Denny Hamlin
Apparently, one fan got so incensed that he stormed up to Hamlin and had to have the police restrain him. The unnamed man yelled at the veteran racer to "learn how to drive". After the red mist finally faded long after the race, a much calmer Hamlin took to Twitter to apologize to Elliott and the fans.
Regarding the incident itself, things appeared to cool down, though nobody could predict what happened next. A vengeful Chase Elliott sought out Hamlin's No. 11 Toyota, drove into him, and shoved him in the wall. This evoked the most appropriate response, where both drivers stormed out of their cars and got involved in a heated exchange.
ADVERTISEMENT
Article continues below this ad
"My mom always said if you don't have anything nice to say, don't say anything at all," Elliott said. "He's not worth my time. I got punted from behind and wrecked in Turn 3 leading the race. I don't know what his problem was. It was unnecessary and I hadn't raced him dirty all day long."
In the end, Hamlin's shenanigans resulted in Elliott finishing 27th, but he won a lot of hearts. The same could not be said for the normally well-liked Denny Hamlin.
Years later, the two would eventually return to the same race track and hopefully, stay out of each other's way. Since the two of them are battling for a spot in the playoffs, they need a good result at Martinsville.
ADVERTISEMENT
Article continues below this ad