"Watching and Learning": Jimmie Johnson Witnesses IndyCar Action From the Pit Box at Indianapolis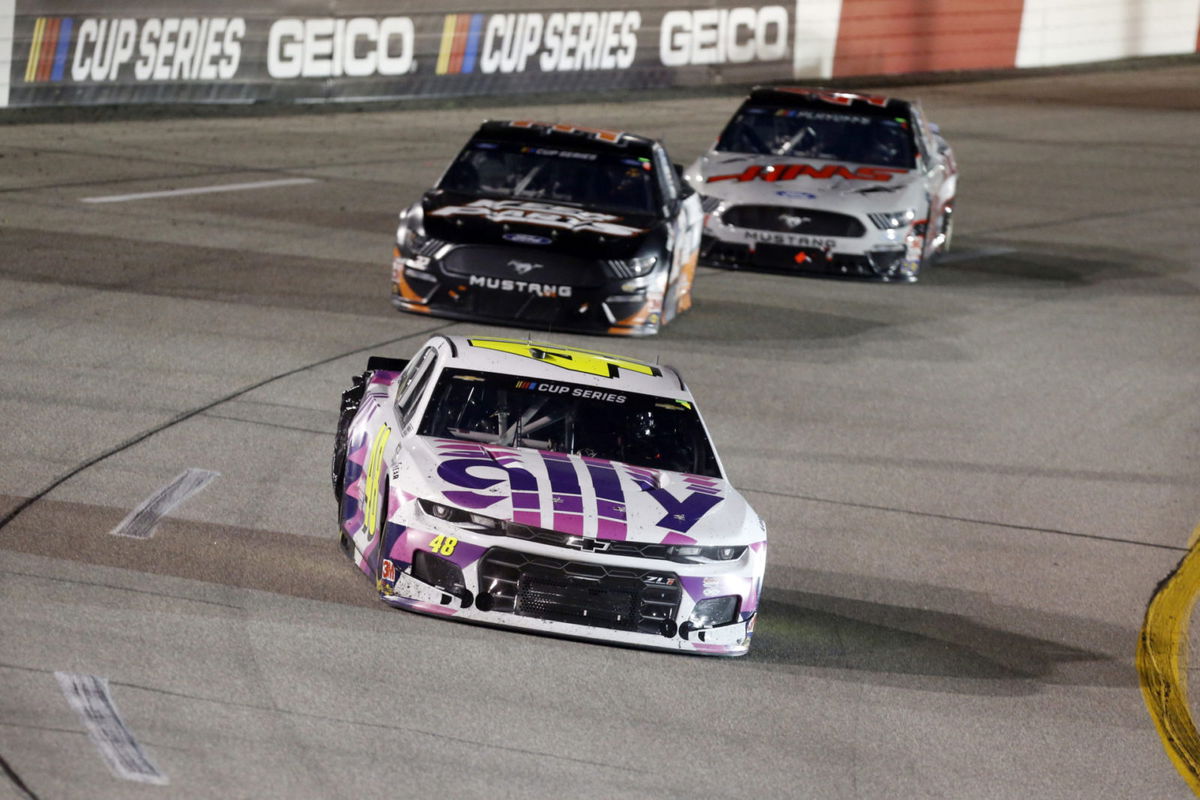 As NASCAR great Jimmie Johnson is set to venture into the IndyCar Series next year, he took some time out of his NASCAR schedule to catch some IndyCar action. The seven-time Cup Series champ was at the Indianapolis Motor Speedway on Friday and in the pit box of Chip Ganassi Racing.
He had a glimpse of the fast-paced action in the Indy Series and watched his future teammate Scott Dixon's pit stop from the Chip Ganassi Racing box.
"I've got to do this next year." – @JimmieJohnson, probably.

The seven-time @NASCAR champion watches @ScottDixon9's pit stop from the @CGRTeams pit box. #HarvestGP on @USA_Network. pic.twitter.com/YNN7OKGy4t

— IndyCar on NBC (@IndyCaronNBC) October 2, 2020
Jimmie Johnson eager to take up the IndyCar challenge
When asked if he's ready to be involved in the action next year, Johnson said, "Oh man, I am." Johnson aims to grasp as much as he can before he takes to the tracks next season.
"Making it look like a lot of fun out there right now. Scott is doing a great job working his way up the field. Watching and learning as much as I can here this weekend," Johnson added.
The pit stop Johnson saw Dixon take was a regulation one. However, the challenge is when all 25 drivers pit together. Johnson admitted that things are a lot different in an Indy car than he experiences in NASCAR.
"Its a lot different. Obviously, a lot quicker stuff than I'm used to. The clutch is up here and not down at your left foot, so that's gonna be something to get used to as well," Johnson said.
After the race, Johnson tweeted on Friday and thanked CGR for the experience.
Thanks for the fun in Indy over the last few days @CGRTeams. @scottdixon9 @dariofranchitti @FRosenqvist @Ericsson_Marcus @IndyMHull @DougDuchardt

— Jimmie Johnson (@JimmieJohnson) October 2, 2020
Johnson's plans for next year
Johnson had earlier expressed his desire to run in 12 IndyCar races next year. Recently, after the Nashville Street Circuit was added to the schedule, Johnson tweeted saying, "Looks like my race schedule just went from 12 to 13 races for next year."
Johnson has not indicated any desire to return for a few select races in NASCAR next year. However, he recently hinted at that after NASCAR announced numerous road courses on its schedule.
"I feel like road course racing for a part-time car number driver is probably the most competitive style of racing that I could compete in. I've not had any conversations and don't know where this will go. Now I see the schedule this morning and understanding where they're racing. There's definitely some interesting tracks that I'd love to race on," he said.
Fans would see love to see Johnson feature on road courses in NASCAR, even if it is for a few races.