"We Know He'll Get There" – Kyle Busch's Wife Samantha Busch on 5-Year-Old Son Brexton's Racing Career
Published 04/04/2021, 12:00 PM EDT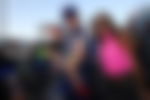 ---
---
Kyle Busch still has a lot of years ahead of him in his NASCAR Cup Series career and the two-time champ is far from done. However, Busch has already started grooming the next-gen, as his son Brexton has begun his racing career at the age of 5.
ADVERTISEMENT
Article continues below this ad
Kyle and wife Samantha are pretty busy with their own projects and careers. However, the family manages to find quality time to spend together and the husband-wife duo spends a lot of time with Brexton at the race track as well.
Busch is very active on social media, sharing moments from his son's various races. It would seem that at such a young age, Brexton might be racing for just recreational purposes, but Samantha revealed that they are quite serious about helping the kid grow as a race car driver.
ADVERTISEMENT
Article continues below this ad
Speaking about Brexton's experiences just six months into his racing career, Samantha expressed that the youngster is already showing great skills behind the wheel. She explained how Kyle and herself are helping him further hone his skills.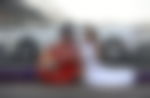 Samantha Busch opens up on strong start to son Brexton's racing career
"What's great is we know he'll get there because he tests really well and runs really fast test times," Samantha said on a podcast recently.
She then highlighted that Brexton still gets a little nervous when he needs to be aggressive to gain some spots on the race track. While he is aggressive during some races, he hesitates to race hard on many occasions.
"Right now, Kyle and I are trying to just build his confidence, just trying to teach him things," she expressed.
How Kyle Busch and wife Samantha are using sim racing to help Brexton
They have realized the importance of sim racing in a young driver's career, giving the example of Ty Gibbs, the grandson of Joe Gibbs of 'Joe Gibbs Racing.' After an impressive start to his NASCAR Xfinity career, Ty revealed how sim racing helped him.
Samantha and Kyle believe that practicing his skills on the simulator will help Brexton greatly when he takes to the race tracks.
How is Brexton's newest crew member working out? 😬 I left them alone for 2 min…

New @brextonbusch Episode dropping soon! pic.twitter.com/mgboWY8ffr

— Kyle Busch (@KyleBusch) April 3, 2021
ADVERTISEMENT
Article continues below this ad

"We're gonna hopefully get him onto some sim racing, because, I mean, just look at Ty Gibbs and that's a great idea. I think where it helps somebody like Brexton or somebody growing up is that they're able to try moves and wreck without really a consequence," Samantha Busch said further.
"So when he has to maneuver traffic and teaching him things like that," she added.
Meanwhile, Kyle Busch is also quite focused on the 2021 Cup Series season. The superstar driver hasn't yet hit peak form this season. He will hope to bag the elusive win in next Sunday's night race at Martinsville.
ADVERTISEMENT
Article continues below this ad