"We're All Putting it Out There" – Alex Bowman on Whether Drivers Will Try and Avoid Denting the Cars Too Much
Published 10/03/2021, 1:17 AM EDT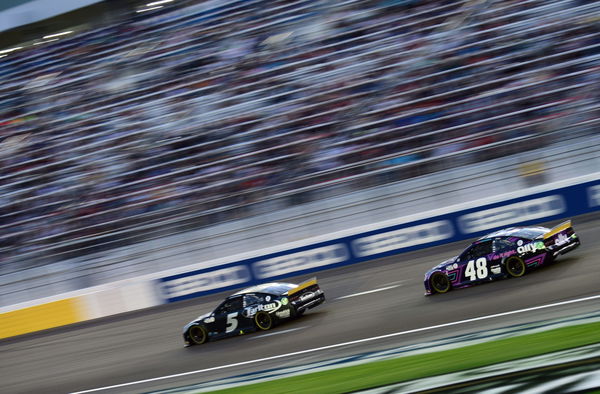 ---
---
This weekend's Cup Series race will kick off at the Talladega Superspeedway. Interestingly, it will be the final superspeedway race with the current Gen 6 car spec. In light of this, some wondered whether the drivers will be more rough with their cars. Recently, Alex Bowman and Ricky Stenhouse Jr spoke about this prospect and laughed it off.
ADVERTISEMENT
Article continues below this ad
Bowman said, "I don't think any race car driver in the Cup Series, really, other than a that are in a few in situations, where they are driving for teams that can't afford to tear stuff up, or have their own reasons for not wanting to tear stuff up – nobody goes to a superspeedway like, 'Oh, I want to save this car for the next one.' We're all putting it out there, regardless.
"These cars don't have to get fixed or whatever afterlife that they have after we switch to the new car next year. We don't need any more reasons to tear stuff up at superspeedway, so stop giving us reasons!"
ADVERTISEMENT
Article continues below this ad
At the end of the day, the Hendrick Motorsports driver insisted that he sees no reason to tear up the cars. On the subject of being gifted the car later, Alex Bowman confessed that he was out of storage space, but he will try and find more.
Alex Bowman was not the only one to talk about this
ADVERTISEMENT
Article continues below this ad
Meanwhile, Stenhouse Jr admitted that he and the team have had thoughts about the car. Specifically, they know that eventually, these cars will be obsolete. He also acknowledged that he and his team have been lucky to come away from speedways without too much damage.
He said, "I definitely think that there is a thought in the back of our head, that we're not going to need these cars anymore. We've been fortunate enough to make it through some of these speedways, lately, without major damage. But it still hasn't been great speedway races for us. So we're either battling for the win or just kind of riding around and waiting for the race to be over."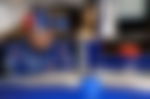 According to him, his races have usually gone in two different directions. He is either in contention for wins, or he is just settling for a quiet little high-speed drive – there is no in-between. However, he knows that it is strange to be aware that they will likely not need these cars again on superspeedways.
ADVERTISEMENT
Article continues below this ad