What Is NASCAR iRacing and the Simulator System? How Does It Work?
Published 04/14/2021, 1:45 PM EDT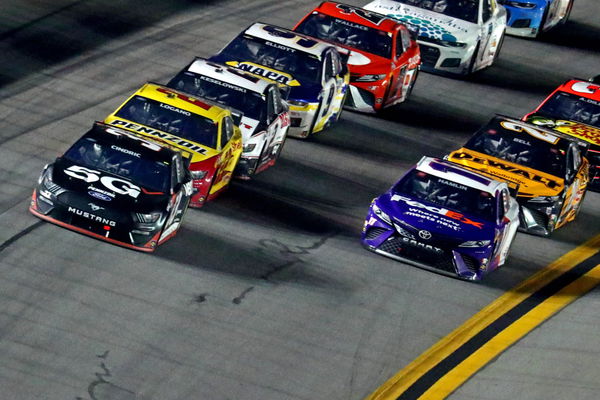 ---
---
iRacing.com is an online computer game created and distributed by iRacing.com Motorsport Simulations. A subscription-based racing simulation game, it reproduces genuine vehicles, tracks, and events. It has the same rules implemented in real-world racing events.
ADVERTISEMENT
Article continues below this ad
The eNASCAR iRacing Pro Invitational Series is a progression of iRacing sim hustling event. However, it was initially coordinated for NASCAR drivers to contend in after the 2020 seasons were required to be postponed because of the COVID pandemic.
Drivers from the entirety of NASCAR's arrangement contended in races. In addition, NASCAR iRacing includes Hall of Fame drivers Dale Earnhardt Jr., Bobby Labonte, and Jeff Gordon. Each weekend, the arrangement would race on virtual variants of the circuits that the NASCAR Cup Series would have competed at, had the races not been delayed.
ADVERTISEMENT
Article continues below this ad
More: WATCH: William Byron Has the Perfect Preparation for Bristol NASCAR Cup Race With iRacing Win
What drivers have to say about the NASCAR iRacing
Current NASCAR Cup Series driver Clint Bowyer believes that the game is "Extremely realistic."
"You're using the same mechanics, the same forces, the same movements as you use in real life to make your car go fast; and that is your hand-eye coordination, your feet.
"You drive these things so much with the pedals, with the gas, the brake, the steering input. All of those inputs in your mind are the exact same thing, and the same tools we use to put your car to the front of the field on any given Sunday."
Denny Hamlin reflects on the nature of the simulation.
ADVERTISEMENT
Article continues below this ad
"NBA players can't go and play NBA 2K and put it on TV and make it look like the real thing," he said. "You can't go play Madden and make it look like the real thing. There's so much animation.
"But iRacing's platform, this is something that really can gain a lot of traction simply because it's as real as it gets. So I'm excited that this is just the first step and hopefully something that builds for years and years to come."
The arrangement started on March 22 with a race at the virtual Homestead-Miami Speedway and finished up with a race at the virtual North Wilkesboro Speedway on May 9. Although it was initially expected to be a one-time occasion, it turned into a week after week arrangement.
ADVERTISEMENT
Article continues below this ad
On January 26, 2021, NASCAR iRacing declared that the Pro Invitational Series will return in 2021.