What to Expect From the Inaugural Camping World Superstar Racing Experience Race
Published 06/11/2021, 7:35 AM EDT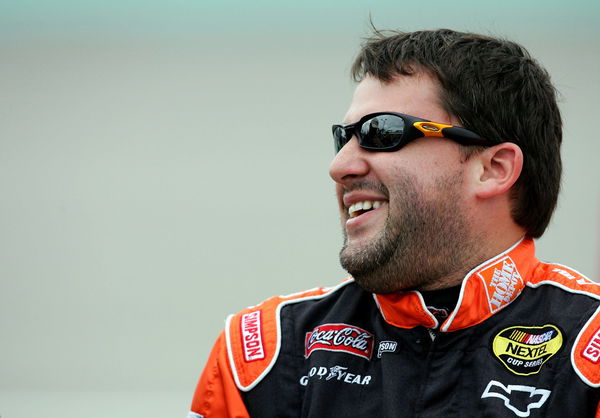 It won't be long before the Superstar Racing Experience Series finally gets underway. 12 top drivers are going to face off against each other at the Stafford Speedway on Saturday night. Among them is co-founder and former NASCAR Cup Series champion, Tony Stewart. Without a doubt, he is quite excited to see his baby take flight and become a full-fledged series.
WATCH STORY: NASCAR Banters: Gordon, Kyle Busch and More
Aside from Stewart, the other competitors are, Marco Andretti, Helio Castroneves and Tony Kanaan from IndyCar. Ernie Francis Jr is the youngest competitor on the grid at the age of 23. Meanwhile, Doug Coby joins Bill Elliott, Paul Tracy, Michael Waltrip, Willy T. Ribbs, Bobby Labonte and Greg Biffle.
ADVERTISEMENT
Article continues below this ad
ADVERTISEMENT
Article continues below this ad
What to expect from the first ever Superstar Racing Experience race?
In essence, the Superstar Racing Experience series pits several iconic motorsports legends against each other. All drivers compete in identically prepared cars in six dirt tracks in the United States.
According to Stewart, "This is what's great about SRX. You have personalities. You have Paul, myself, Willie T., Bill Elliott, Bobby Labonte and Michael Waltrip. I don't how you get more personality than that. But then you get these guys in equal cars, and that's going to be a lot of fun. The personalities are going to come out and (CBS) is going to tell these stories. That's going to create a ton of excitement, mark my words."
ADVERTISEMENT
Article continues below this ad
After Stafford, the drivers head to Knoxville, Eldora, the Lucas Oil Raceway, Slinger and Nashville Fairgrounds. It is also worth mentioning that the cars are selected at random each week. In other words, no driver will be behind the wheel of the same car for more than one race. This only serves to add to the unpredictability of the series and should hopefully produce more excitement for the fans at each round this year.