What Was the Denny Hamlin Short Track Showdown?
Published 04/17/2021, 10:30 AM EDT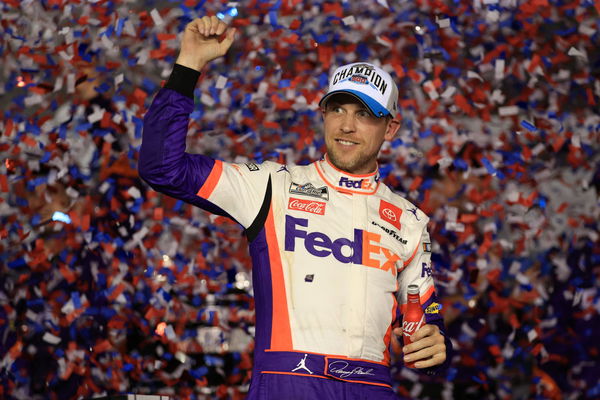 ---
---
Denny Hamlin is quite a big name in the racing business. He drives the No. 11 Toyota Camry full-time for Joe Gibbs Racing in the NASCAR Cup Series and No. 54 Toyota Supra as a part-timer in the NASCAR Xfinity Series. Having won 44 Cup races in 550 race starts, Hamlin is perhaps one of the best NASCAR drivers ever and a future Hall of Famer.
ADVERTISEMENT
Article continues below this ad
He even owns a Cup Series racing team with Basketball legend Michael Jordan. The team is named 23XI Racing with Bubba Wallace driving the No. 23 Toyota Camry.
But did you know that Denny Hamlin even began his own racing series?
ADVERTISEMENT
Article continues below this ad
The name of the series is Denny Hamlin Short Track Showdown. It is a charity race and the proceeds from the race are sent to the Denny Hamlin Cystic Fibrosis Research Lab at the Children's Hospital of Richmond at VCU.
Some of the past race winners of the charity event are Kyle Busch, Denny Hamlin, Tony Stewart, and Timothy Peters.
What is Denny Hamlin Short Track Showdown
The series started in 2008 at Southside Speedway, a short track close to Hamlin's home in Chesterfield, VA, outside of Richmond. The race was then moved to Richmond International Raceway in 2011. For its seventh year in 2014, the race moved to another short track with a long history in stock vehicle racing, South Boston Speedway. Finally, the race moved to the Langley Speedway for the last race in 2018.
An aggregate of nine races were held from 2008-15 and 2018 at four different short tracks. The charity race was set to happen in 2019 at Langley Speedway in Virginia. However, it was dropped because of the expenses related to the event.
ADVERTISEMENT
Article continues below this ad
In 2019, the foundation released the statement, "At this time, there are no plans to host the Denny Hamlin's Short Track Showdown in 2019. A lot of factors need to properly align in order to produce an event like this."
"The Denny Hamlin Foundation has been fortunate to host the charity race nine times over the last 11 years, benefiting Cystic Fibrosis research and therapy. We anticipate the Short Track Showdown will return to the racing calendar in future years."
The race did not return in 2020 either. So, do you think we'll get to see the Denny Hamlin Short Track Showdown again? Let us know what you think!
ADVERTISEMENT
Article continues below this ad