When Kyle Busch and Kurt Busch Did Not Talk to Each Other 'For a Year' After Big NASCAR Crash
Published 02/16/2021, 11:02 AM EST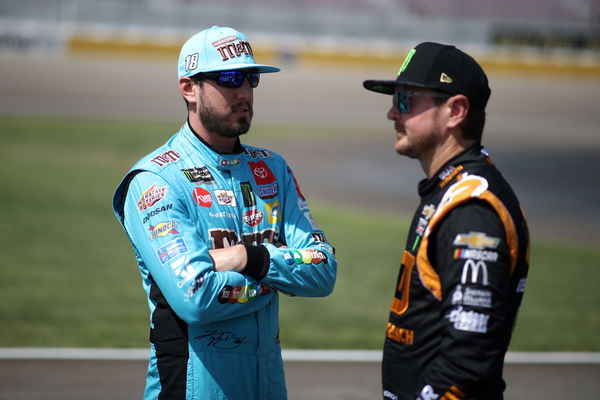 ---
---
Kyle Busch and Kurt Busch form one of the most successful sibling pairs in NASCAR history and even sporting history. The two brothers have almost 90 race wins and three Cup Series championships between them and enjoy each other's successes in the sport.
ADVERTISEMENT
Article continues below this ad
However, with every sibling pair at the top level of any sport, comes a big 'sibling rivalry', which is sometimes healthy and sometimes quite competitive. While Kurt and Kyle have always shared a very competitive, but respectful relationship, there was one phase where things were not good between them, to say the least.
The Busch brothers recently admitted that they did not talk to one another for as long as a year at one point during their careers. The incident that led to their fight occurred at the 2007 All-Star race, where Kurt and Kyle battled for a win.
ADVERTISEMENT
Article continues below this ad
While many would wonder why that race caused such a big moment, despite not even being a Cup points race, it all came down to the big prize for winning the race – a million-dollar paycheck.
Kurt, the older brother, explained how much emphasis there is on winning the race.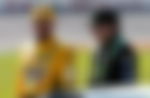 What happened between Kyle Busch and Kurt Busch in the All-Star race?
"It's all about a million bucks. A million dollars for the winner. There's all that slang and talk, and trash talk about how you would wreck your own mom to win a million bucks," Kurt said during a recent interview.
While battling for the lead, Kyle came in as Kurt was ahead. He then made a move and came side-by-side with Kurt, thinking there was enough room there to fit his car and make it three-wide. Kurt, on the other hand, did not budge, as he believed Kyle was trying to wreck him.
The end result – the brothers collided, wrecking each other, which cost them both the win. "He says there was not enough room there. The fact of the matter was I got there so there was enough room there," Kyle said about the same.
They were both livid after that incident, and Kurt insisted that the difference of opinion caused a big problem between them. He said it was all for a 'million bucks'. Things got really out of hand, and Kurt and Kyle did not speak to each other for an entire year.
Things got really tense between the Busch brothers
"After that I was pissed. We didn't talk the whole rest of the year… I didn't care," Kyle said further.
Their father was equally angry at both his sons, however, his reason was different. "They gave (Kevin) Harvick the million and I was pissed. I mean, really? That's how you want to settle this? Make sure someone else got the million bucks?" said Tom Busch on the incident.
Both of them refused to let go of their stance on the matter. Kurt said he was not ready to let go of the 'big brother' stance, while Kyle had – something he calls – the 'little brother syndrome'.
"It was me still trying to hold my ground as the older brother, and (saying) 'you still have more to learn'. He, of course, like any little brother, has 'little brother syndrome' – I'm going to do everything faster, quicker, and better than you," Kurt expressed.
"He admitted he wrecked me", says Kyle
They eventually mended their differences, after insistence from their grandmother. She could not stand to see Kurt and Kyle going through such big problems.
Then, almost 10 years after the incident, Kurt admitted to Kyle that he wrecked him in that All-Star race. Kyle said he called out his brother on that incident.
"He wrecked me, he finally admitted that just two years ago. Finally admitted it. I called him out on it and he admitted he wrecked me," said the 35-year-old Kyle, seven years younger than Kurt.
ADVERTISEMENT
Article continues below this ad
Now, things are a lot better between the brothers. Last year, when Kurt pulled off a surprise win in Las Vegas, Kyle even shared a celebratory moment with his brother on the track.
ADVERTISEMENT
Article continues below this ad
A lot older and wiser, their fans would hope that it is all 'water under the bridge' between the two NASCAR superstars.
Enjoyed reading this article? Download our exclusive app to get 24x7 coverage, latest memes and social media banter. Click here to download.