When NASCAR Legend Jeff Gordon Failed Miserably at His Kanye West Impersonation
If you thought someone like Jeff Gordon could do just about everything, you'd be right. But if you think the four-time NASCAR Cup champion can do everything, you'd be wrong.
Especially when it comes to his rapping talents.
ADVERTISEMENT
Article continues below this ad
Back in 2016, a freshly retired Gordon sat down for an interview with FOX Sports, the former Hendrick Motorsports driver tried his hand at reciting some of the lyrics to a Kanye West number.
And it's safe to say that Gordon failed. Quite miserably.
It's also worth mentioning that Kanye West once released a song with Jay Z in which he compared himself to Jeff Gordon.
The lyrics went like this, "I'm about to hit that Jeff Gordon (Ayy!), Michael Jordan, the only one more important (Ayy!)"
WATCH THIS STORY: Bubba Wallace Doesn't Bite His Tongue in Taking a Dig at Michael Jordan's Future NASCAR Driver
Jeff Gordon claims Chase Elliott is frustrated by the lack of respect from his peers
Inarguably, the turning point for Chase Elliott in the championship race in Phoenix was when he got spun around after contact with another championship hopeful, Ross Chastain.
Speaking about this incident, Jeff Gordon described how Elliott was feeling about what happened, a question that the #9 driver chose to ignore in a post-race interview.
ADVERTISEMENT
Article continues below this ad
"I love the way Chase Elliott races, a lot of integrity, earns a lot of respect with his competitors," Gordon said. "It's just frustrating him because he doesn't feel like he gets raced the same way in return."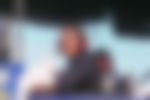 The four-time Cup champion described he's proud of his driver and the #9 HMS team for putting in "a heck of a year." 
ADVERTISEMENT
Article continues below this ad
"They were in a great position to give Joey Logano a run for his money for the championship," Gordon added. "Those guys, Joey and Penske, congrats to them, they did a fantastic job, not only this year but certainly today, they earned it."
Edited By: Nizamul Haque Bhuyan