Who Is Jimmie Johnson's NASCAR and Indycar Spotter Earl Barban?
Published 04/25/2021, 9:45 AM EDT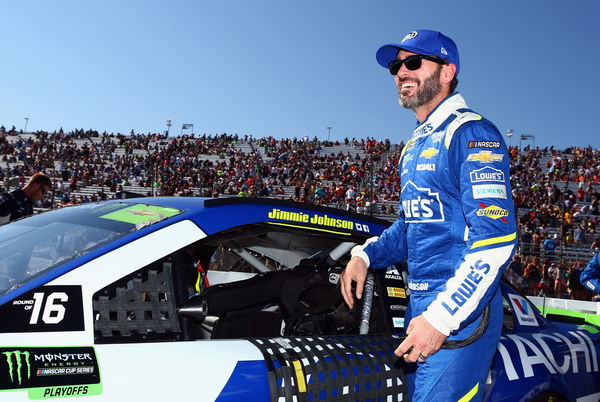 ---
---
A spotter in racing is a person whose work is to hand off data to their driver, keeping them alert of what is happening on the track. They are commonly positioned on one of the grandstands to ensure that they can see the whole track.
ADVERTISEMENT
Article continues below this ad
Spotters stay in touch with their drivers through two-way radio correspondence. They regularly fill in as eyes for the driver during the race. He watches the sides and back of the vehicle and affirms through the radio when the track is clear for a pass or move. Numerous spotters are often previous drivers.
However, there are spotters and then there is Earl Barban, one of the most famous spotters in NASCAR.
ADVERTISEMENT
Article continues below this ad
Who is Earn Barban, Spotter of Jimmie Johnson
Earl Barban is an American stock vehicle racing spotter. He right now fills in as the spotter of the No. 48 Honda vehicle driven by Jimmie Johnson in the Indycar Series.
Barban was one of the few team members of Hendrick Motorsports that went with Jimmie Johnson to No. 48 Honda Indycar team.
He is a five-time Cup Series champion with Johnson and has won three Xfinity titles with JR Motorsports' Chase Elliott, William Byron, and Tyler Reddick.
Barban started his career in motorsports as a mechanic in a Cup series team. He even drove at Pevely Speedway in St. Louis.
His first race as Johnson's spotter was the 2006 Daytona 500. The pair won that race as well as that year's Cup Series title. Despite that, Barban left Hendrick Motorsports and joined Yates Racing and Stevie Reeves.
He got back to the No. 48 group in 2009. Jimmie and Barban scored four additional titles from 2009 to 2010, 2013, and 2016.
ADVERTISEMENT
Article continues below this ad
"I had worked for such a long time and had never won Daytona," Barban said.
"So that (victory) was really emotional. I guess I was nervous because it was my first time with Jimmie and the 48 team. It's like you're on an audition… you're afraid to make a mistake.
ADVERTISEMENT
Article continues below this ad
Preceding JRM, he was the spotter for Rusty Wallace Racing's No. 64 group in 2006.
Trending Stories