"Why Mess With Things?" – NASCAR Fans Agree With Denny Hamlin About 'Freight Train' Racing at Phoenix
Published 03/16/2022, 10:07 AM EDT

Follow Us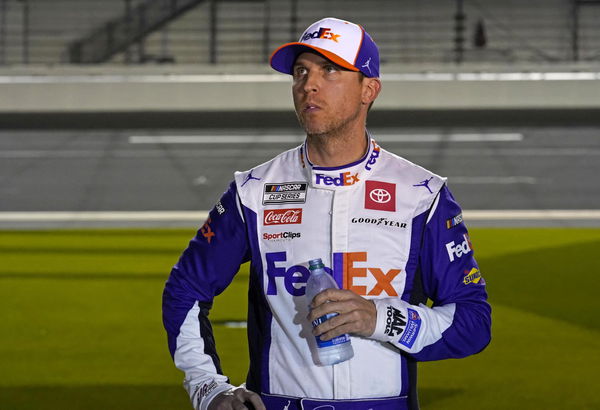 After the NASCAR Cup race at the Phoenix Raceway, Denny Hamlin was not particularly happy. He was quite mad about how the track had a grip on only one lane, because of the 'sticky stuff', as he put it. As a result of this decision from NASCAR, the race at Phoenix often saw cars one behind the other, like a 'freight train'.
As it turned out, many fans agreed with the Joe Gibbs Racing driver. Some felt that the tyres did a far better job of keeping the racing exciting. According to one response, "I wish NASCAR would stop putting "that sticky stuff" on tracks! Why mess with things? If a team can't figure out how to run the tracks AS THEY ARE, then too bad for them….. Real Champions will adapt, overcome and conquer!"
In totality, the consensus was that the track did not need a traction compound. In fact, teams were perfectly alright with how the Phoenix Raceway was in 2017, where multiple lanes were in use.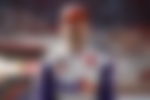 Meanwhile, there were many who were mad that, even though drivers have been raising the issue, they have been ignored.
How else did fans back up Denny Hamlin?
Some fans reminisced about the 2017 and 2018 Cup races and praised the level of racing. On that occasion, there was a thrilling battle for the race lead between Denny Hamlin, Kevin Harvick, and Kyle Busch. Each of them used different lanes. There was no need for the 'sticky stuff' to enhance racing. Ever since NASCAR started using the PJ1 compound or resin, the racing has declined.
There were a fair number of people who suggested that it was better to see how the cars performed without the 'sticky stuff'. As per some observations, NASCAR assumed that the Next Gen cars would perform like the Gen 6 car on certain tracks. As a result, they tried to artificially enhance the racing.
Owing to NASCAR's tampering with the Phoenix Raceway surface, the bottom became obsolete. In past races, drivers had the freedom to use multiple different lines without it being a disadvantage. However, the new changes have made the top lane very overpowered.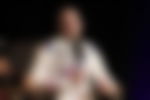 First Denny Hamlin, Now Kyle Busch: Alex Bowman Teases Proven Method for Shutting Down JGR Drivers
Edited By: Vibhanshu Kumar