'Wrecks to Squeegees': Watch the Top Moments in the Rain From NASCAR Xfinity Series
Published 09/02/2020, 10:47 AM EDT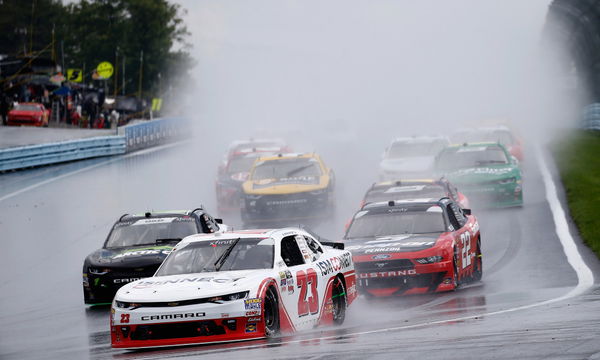 ---
---
It is already quite challenging for NASCAR drivers to race in close quarters and pass each other, approaching at the speeds that they do. We often see them skid off the surface and lose control of their cars, or crash into one another, leading to wrecks. The challenge gets even more daunting when all of that is accompanied by dark skies and impending rain.
ADVERTISEMENT
Article continues below this ad
NASCAR even has a policy that states that races should be stopped for at least 30 minutes even if there is a single strike of lightning within eight miles of the track. If the race has not started and lightning occurs, a delay is inevitable.
Nevertheless, racing in the rain brings with itself many big incidents between drivers. Be it wrecks, drivers skidding off the track due to wet conditions, or racing without not knowing what's in front of them. Sometimes even a driver carrying a mop with them during the race and cleaning the windshield. NASCAR compiled some of the top moments when NASCAR raced in the rain in the NASCAR Xfinity Series.
ADVERTISEMENT
Article continues below this ad
The first race in the rain in NASCAR
NASCAR drivers raced in heavy rain for the very first time 12 years ago. It was a 2008 NASCAR Xfinity Series race at the Circuit Gilles Villeneuve in Montreal.
As expected, chaos ensued in what was a unique moment in NASCAR history. After just seven laps, the caution came out due to rain. The day race then saw brake light and windshield wipers installed on the cars.
ADVERTISEMENT
Article continues below this ad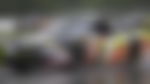 NASCAR ran its first race on rain tires. While drivers tried their best to understand the new situation and just hang in there, Carl Edwards took it a step further. In one of the funniest incidents, Edwards took out a squeegee and started cleaning the windshield, to everyone's amusement. The race was stopped after just 48 laps as there was too much rain to continue.
Other memorable races in the rain in NASCAR Xfinity Series
ADVERTISEMENT
Article continues below this ad
The Circuit Gilles Villeneuve raced in the rain yet again the following season in 2009. Some of the other memorable rain races were at Mid-Ohio Sports Car Course in 2016 and at Watkins Glen International in 2018, both of which saw many wrecks.
The NASCAR Xfinity Series last raced in wet conditions during its debut at the Daytona Road Course last month.